Filming begins on new Mitchell & Webb comedy Our Men
Filming begins on new Mitchell & Webb comedy Our Men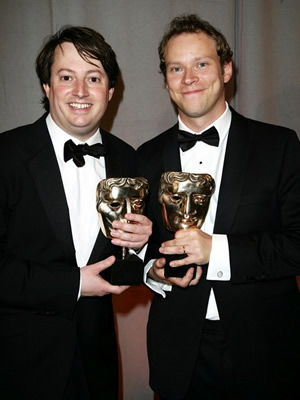 Filming has begun on Mitchell & Webb's new comedy project.
Our Men, a comedy drama based around the activity at a British foreign embassy, is now being filmed in the UK and on location in Turkey for broadcast on BBC Two later this year.
As previously announced, Our Men is set in the fictional central Asian Republic of Tazbekistan. David Mitchell plays newly arrived British Ambassador Keith Davies, with Robert Webb as his seasoned second in command, Neil Tilly.
The duo are a team under constant and competing pressures: pressure from the politicians in London who are keen to ensure UK PLC doesn't miss out on lucrative business contracts in an emerging oil-rich nation; pressure from their under-funded, under-resourced embassy staff struggling to maintain an image of Britain as an important global political heavyweight; and pressure to maintain good relations with a rigid, autocratic local regime with a dubious humans right record.
The cast list for Our Men has also been released today, with Spooks and Ashes To Ashes actress Keeley Hawes named to play Jennifer, the wife of David Mitchell's character.
Debbie Chazen (The Smoking Room, The Spa) will appear as Ludmilla, the embassy housekeeper; and Natalia Tena (Harry Potter, Game Of Thrones) as Tanya, Robert Webb's character's local girlfriend who runs the ex-pat bar.
Other regular cast members include Yigal Naor (House Of Saddam), who will be playing Tazbekistan's president, Karzak; Susan Lynch as Caitlin - Head of Consul; Amara Karan as Isabel - Trade and Political Secretary; and Shirvani Ghai as Natalia - Head of Public Relations.
A number of guest stars have also been announced for Our Men. Notably, Rev star Tom Hollander will appear in an episode as Prince Mark, a minor royal and trade envoy on a key mission to help secure an important oil contract for Britain.
Other guest characters will include Michael Smiley (Spaced, Time Gentlemen Please) as Jackson, a grim-faced vetting officer for the Foreign Office who grills the staff's loyalty to Queen and country; and Elliot Cowan (Lost In Austen) as Stephen Pembridge, a self-important actor flown in to celebrate the Best of British Festival in Tazbekistan.
Our Men has been created by Rev. lead writer James Wood and Spooks writer Rupert Walters. It is being produced by Big Talk Productions, the company that makes Him & Her, Rev. and Chickens, in a co-production agreement with That Mitchell & Webb Company, the new production outfit setup by the star actors.
The series is being produced by Chris Carey, who has previously worked on This Is Jinsy and Dirk Gently, and will be directed by Jeremy Webb, who has recently worked on Downton Abbey, Merlin and Doctor Who.
Our Men is expected to be shown on BBC Two later in the year. For more information on the plot, see our guide to the show
Speaking at the time of commission last year, David Mitchell said: "There comes a time in the life of every youngish actor when he knows he will never play James Bond. This is not that time. We're still holding out for that, but Our Men might be good to practice on."
Robert Webb added: "It's sort of Yes, Prime Minister meets Spooks at a bad disco and Yes, Prime Minister is a bit sick on Spooks, but Spooks doesn't mind. It's like that."
This is not the first time Keeley Hawes has worked with Mitchell & Webb. The actress made a guest appearance as Mitchell's dream wife in the 2010 series of their sketch show, That Mitchell & Webb Look. Below is the video of this sketch:
Share this page