Channel 4 recommission Ricky Gervais's Derek
Channel 4 recommission Ricky Gervais's Derek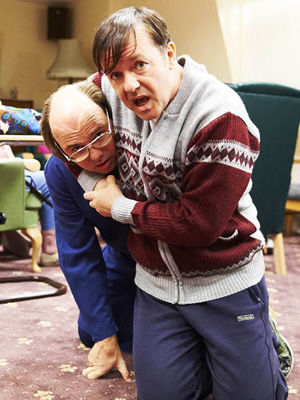 Derek has been recommissioned for a second series by Channel 4, the network has announced.
Starring, written and directed by Ricky Gervais, the first series of the mockumentary comedy drama is currently broadcasting on Wednesday nights on Channel 4, the network's flagship station.
The comedy follows the staff and residents of fictional Broad Hill Retirement Home, including manager Hannah (Kerry Godliman), caretaker/odd-job-man Dougie (Karl Pilkington), and Derek Oakes (Gervais).
Phil Clarke, Channel 4's Head of Comedy, said: "I am delighted that Derek is coming back for a second run on Channel 4. It's an original comic vision, brave, funny and touching, with a star performance at its heart. It has already garnered a loyal following."
Gervais added: "Derek is probably my favourite thing of everything I've done, so I can't wait to start thinking up some new adventures for the gang."
The first four episodes of the series are reported to have reached an average of 2.1 million viewers across first showing and repeats in their respective weeks of transmission, however the premiere broadcasts have seen a steady decline in audience numbers.
The first episode of the series, broadcast on 30th January, achieved an overnight audience figure of 1.75 million. By episode 3 this had dropped to 1.45m, and the most recent edition, the fifth in the series, 1.22 million viewers. It was followed by a 'making of' special, which was seen by a paltry 650,000 people.
Derek has been met with a mixed reception by both public and critics. Comments from viewers on the British Comedy Guide's forums are overwhelmingly negative, whilst Gervais has come under repeated criticism for the portrayal of Derek himself. The direction and use of music in the series has also come under attack, as have the characters and storylines. See our press clippings page for more detail.
Gervais made headlines in January when he pledged to produce a second series of the comedy with or without the backing of Channel 4. Made by his own Derek Productions, the creator and star said "I don't need [Channel 4], I've got four million Twitter users. I can just put it on there."
The second series of Derek is likely to film later this year and broadcast from early 2014.
Ricky Gervais made headlines again last week when it was revealed that he would be reprising his role as David Brent in a Comic Relief sketch to mark 10 years since the end of The Office, the mockumentary comedy that made his name.
To be broadcast during the Comic Relief telethon on Friday 15th March, The Office Revisited will catch up with ex-Wernham-Hogg manager Brent to see what he is up to now - reportedly primarily still acting as a cleaning products salesman.
Here's a clip from this week's final episode of Derek:
Share this page