Sky1 sitcom Spy will not return for third series
Sky1 sitcom Spy will not return for third series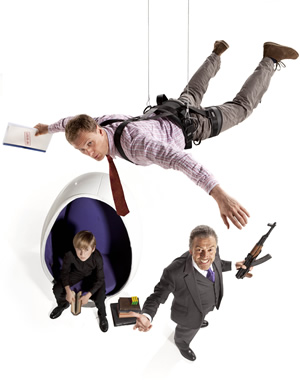 Sky1 has confirmed that Spy, its sitcom about a man accidentally recruited into MI5, has now finished and will not return for another series.
Written by Simeon Goulden, Spy launched in 2011, with an extended-length second series last year finishing with a Christmas special. The show, which ran for 17 episodes in total, followed the adventures of Tim, a character played by Darren Boyd.
A single father, Tim tries to win the respect and affections of his precocious nine year old son Marcus (Jude Wright) whilst being completely unable to reveal what his 'civil service job' truly involves.
The cast list also includes Robert Lindsay as Tim's MI5 boss, Rebekah Staton as Tim's fellow agent and potential love interest, and Mathew Baynton as his slacker best friend.
The sitcom immediately proved popular with audiences when it launched, and was praised by the press for being a pre-watershed comedy that the whole family could watch together. It has also been a hit internationally, with over 100 countries buying the rights to scree the series. Boyd won Best TV Comedy Actor at the 2011 British Comedy Awards for his portrayal of the lovable loser at the centre of the show, and last year was awarded a BAFTA for the sticom.
The news the comedy was not returning for a third series first broke via Twitter. In a message, now deleted, Darren Boyd reportedly posted on micro-blogging website: "I have handed in my badge and gun. Spy will not be returning to your screens. Thanks for watching."
A spokesperson for Sky, responding to a follow-up enquiry by The Radio Times, has provided the following statement: "We'd like to thank Hat Trick, Simeon Goulden, Darren Boyd and the entire cast for two stellar series of Spy. Whilst the show will not be returning, we would love to work with everyone involved again on new projects coming down the line."
Whilst Spy might have finished in the UK, creator Simeon Goulden is currently working on translating the comedy for American audiences. The US network ABC is due to film a pilot later this season.
It was announced last week that Rob Corddry, perhaps best known as a correspondent for The Daily Show and as Lou in Hot Tub Time Machine, will be taking on the role of Tim for the US pilot. Meanwhile, young actor Mason Cook will play Marcus and Ken Jeong, a star of Community and The Hangover movie franchise, will take on Lindsay's role, The Examiner.
Below is a clip in which Robert Lindsay explains the premise of the show:
And here is a video in which some of the cast of Spy talk about 007:
Share this page