Ross Noble to film travel series dictated by social media
Ross Noble to film travel series dictated by social media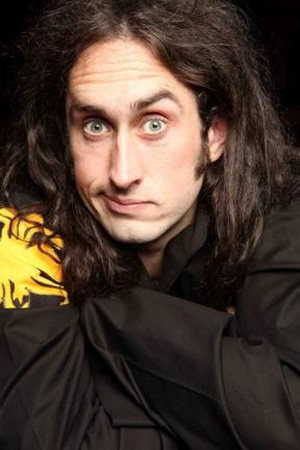 Digital channel Dave has announced an 'anti-travelogue' series starring stand-up Ross Noble.
Ross Noble Freewheeling will see the comedian going on a journey, but with his route and the locations he visits dictated by fans interacting with him on social media.
A press release for the show says: "The king of improvisation, Ross Noble, has been asked to do a travelogue by UKTV's entertainment channel Dave. The only problem is that Ross doesn't like travelogues. They're too set up, pre-planned and frankly a bit obvious. Ross wants to do things his way. And his way is the random way. So Ross is putting his fate completely in the hands of the public as he calls on fans through social media to decide every step of his journey.
"Just like his stand-up, Noble is throwing out the script, along with the guidebook, and crowd-sourcing the sort of experiences and people that you never normally hear about. The sort of things you'd least expect to be the basis of comedy."
They add: "Ross is renowned for improvising entire gigs and even riffing for hours on odd items as simple as a till receipt. Now liberated from the stage, literally anything and anyone could find themselves entwined in one of Ross's comic scenarios. Of course it will also show that things don't always go according to plan."
The series, which will be produced by North One Television, will consist of six hour long episodes.
Ross Noble says: "I can't promise this programme will be either insightful or that revealing but it's definitely a programme."
The show's producers add: "Ross Noble Freewheeling is a very modern comedy documentary that avoids well-trodden paths and traditional travel show fodder. If he has to go to a tourist attraction, Noble is more likely to be found hanging around by the bins than enjoying the view. He's more likely to be found doing a best man speech for a couple he's never met or trying to convince a group of teenage goths to get a spray tan. Ross Noble Freewheeling is an anti-travelogue, a revealing comic journey and a fascinating insight into modern Britain."
Dave channel boss Steve North comments: "Ross Noble Freewheeling takes Ross off the stage and sets him loose on the real world; it's a whole new twist on comedy on Dave. Social media is integral to the success of the show and we will be looking at innovative ways of engaging with his fans so they drive the editorial - Ross really is in the hands of the public."
UKTV's Richard Watsham adds: "Ross Noble is the ultimate comic improviser but even so it's a brave thing to do to put yourself in the hands of the fans and take whatever is thrown at you. This format absolutely plays to his strengths however and I'm confident that the combination of innovation and humour with a really modern feel will appeal to a broad audience."
Executive producer James Woodroffe concludes: "I'm slightly worried this could be my last job in TV."
Ross Noble Freewheeling will be broadcast on Dave this Autumn.
The show won't be Noble's first travel series. In 2009 he fronted Channel 5 series Ross Noble's Australian Trip, and on the radio he has presented shows including Ross Noble Goes Global.
Below is a clip from Noble's stand-up DVD Nonsensory Overload, in which he jokes about the Australian version of singing show The Voice:
Share this page