Morgana Robinson piloting BBC Three sitcom
Morgana Robinson piloting BBC Three sitcom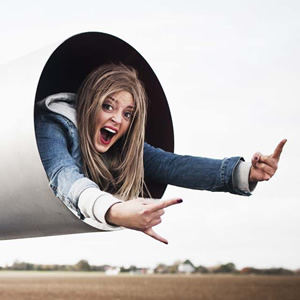 Impressionist comic Morgana Robinson is developing a sitcom for BBC Three.
Best known for Channel 4 sketch shows The Morgana Show and Very Important People, both of which ran for one series, Morgana (pictured as Fearne Cotton, right) is now working on her first project for the BBC, a sitcom pilot about a struggling celebrity.
TV industry publication Broadcast reports that Robinson will play multiple characters in the comedy, focussed on "a celebrity who has suffered a public fall from grace and is having to rebuild her reputation".
Intended to showcase Robinson's comedic skills in portraying multiple characters, the comedy - uncommissioned and still in development - will see Morgana play the lead role and numerous others as the fictional star struggles to work out what happened to her, and to regain her fame.
Robinson is working on the format with Running Bare Pictures, the production arm of her agents, John Noel Management. Running Bare was also behind Very Important People and The Morgana Show, in which Morgana found particular fame as comic character Gilbert.
Morgana Robinson won the Best Comedy Breakthrough Artist title, for VIP, at the 2012 British Comedy Awards in December. Speaking after the event, she revealed that she was developing a sitcom for the US market starring Gilbert, and hoped to produce a pilot in LA early this year.
Shane Allen, who became the BBC's comedy commissioner in August, had previously been the head of comedy at Channel 4 and was responsible for bringing both 2010's The Morgana Show and 2012's Very Important People to air. It is believed that he has championed Robinson in his new post, ordering the project's development.
The following video clip collects all of Gilbert's appearanced from The Morgana Show. The character had previously been seen in 2009 series TNT Show.
Share this page