Dom Joly's Fool Britannia prank show gets second series
Dom Joly's Fool Britannia prank show gets second series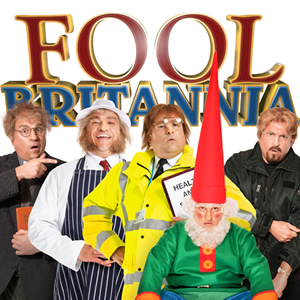 Fool Britannia, the ITV prank show hosted by Dom Joly, has been given another series by the network.
The first series of Fool Britainna was shown in an early evening Saturday night slot on ITV1 in September and October 2012, attracting audiences of around 2 million an episode. The show was commissioned to help fill the schedule slot vacated by ratings-winner TV Burp.
Fool Britannia is a similar in format but more family-friendly in tone than anarchic 2000 to 2003 Channel 4 show Trigger Happy TV, which brought Joly to stardom.
In Fool Britannia, Joly plays a host of new characters including a jobsworth Health & Safety man, a vicar with delinquent tendencies, an un-helpful tourist information 'guru', a picky nightclub bouncer and a butcher on the lookout for new meat products.
Writing on Twitter last week, Joly said: "V excited re series 2 Fool Britannia - view series one as pilot..."
The show is made by ITV Studios, whose Director of Entertainment, Siobhan Greene, says: "We are thrilled to be working with Dom on a second series of Fool Britannia. Dom and the team are full of new characters and ideas, and we are so looking forward to building on what was done on the first series."
ITV's John Kaye Cooper adds: "We're delighted that Dom returns with Fool Britannia and his own blend of pranks and set-ups."
The re-commission of Fool Britainna is part of ITV's increased commitment in finding new long-running comedy formats for its flagship channel. The network has ordered a number of sitcoms, including job centre-based The Job Lot, and Vicious, a comedy in which Sir Derek Jacobi and Sir Ian McKellen will play an elderly gay couple.
As reported last month, ITV has also ordered a number of panel show pilots, including Battle Of The Ages, Chat Show Roulette, Oh What A Week! and You Couldn't Make It Up.
Prank show formats are currently undergoing somewhat of a resurgence on British TV. 2012 saw new series such as Impractical Jokers and The Work Experience debut, whilst BBC One has recently begun showing Richard Hammond's Secret Service. Additionally, BBC Three has just renewed political stunt show The Revolution Will Be Televised, and ITV is working on Off Their Rockers, a prank show starring pensioners which is based on a hit Belgian format.
Meanwhile, Sky1 appears to have shelved its own prank show, That Hidden Camera Family. The format had originally been due to begin airing late in 2011, but has yet to see a single episode broadcast.
The six-part second series of Fool Britannia will be shown on ITV's flagship channel later in the year.
Below is a clip from the first series in which Joly plays The ASBO Vicar, a polite church man who goes from being charming to dangerous in the blink of an eye:
Share this page