Doon Mackichan filming hairdresser sitcom for BBC Four
Doon Mackichan filming hairdresser sitcom for BBC Four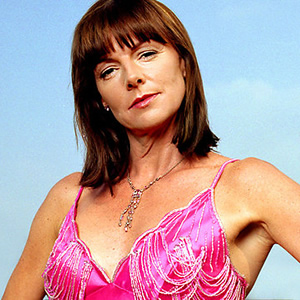 BBC Four is developing Quick Cuts, a sitcom set in a North West London hairdressing salon.
Chortle reports that the semi-improvised comedy is currently being filmed in the London suburb of South Ruislip.
Doon Mackichan (pictured) will star as Sue, the owner of the salon at the centre of the show. Her previous TV credits include sketch show Smack The Pony and war reporter sitcom Taking The Flak, whilst she will appear in ITV2's upcoming Rome-based sitcom Plebs.
Other cast members involved in playing the 'bad, screwed up, unreliable' staff at the salon include Jessica Gunning (Law & Order: UK, White Heat) and O.T. Fagbenle (Grownups, FM). Paul Reynolds (Trevor's World Of Sport) will play Sue's dodgy boyfriend Trevor and Jane Dowden will play a male to female transsexual called Marianne.
Quick Cuts features scripted elements by Georgia Pritchett (Miranda, Life Of Riley, Feel The Force), but will also employ "a similar process of workshops and improvisation to The Thick Of It, with the sitcom very much structured and written but with some of the customer scenes, involving a big cast of cameos, improvised."
The show is being produced by Catherine Bailey Productions, the company that has previously worked with Pritchett to create both Life Of Riley and Feel The Force. The latter, a police sitcom, is currently being adapted for an American pilot, seven years after its single series aired in the UK.
Quick Cuts is due to finish filming at the end of the month. BBC Four is still following its strategy of ordering just three episodes of new shows, but if the comedy is received well the channel will then order further episodes.
Story update - Wednesday 20th February 2013:
Quick Cuts has been confirmed by BBC Four. The channel describes it as "a fast-paced, quick-cutting sitcom crossed with a sketch show, set in a hairdressing salon."
"The narrative sitcom element of Quick Cuts follows the lives of the staff while the sketch element will be the encounters between the customers and the hairdressers with the camera acting as the mirror in the shop."
BBC Comedy's Kristian Smith says: "Quick Cuts is a fresh and inventive new comedy: part sitcom, part broken comedy, it follows the exploits of the staff in a hair and beauty salon. The brilliant cast of both familiar and newer faces, led by the brilliant Doon Mackichan, bring Georgia Pritchett's imaginative and energetic situations to life."
Catherine Bailey adds: "The combination of Georgia Pritchett's beautifully structured narrative and cast workshops has produced a highly entertaining look at the world within a salon. With situations and jokes that are universal in their appeal, Quick Cuts is fast-paced and original in its approach to comedy."
Share this page