New kids' comedy Strange Hill High recommissioned
New kids' comedy Strange Hill High recommissioned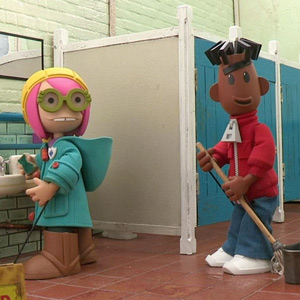 New animated comedy series Strange Hill High has been recommissioned by CBBC before its first series has even begun.
Set at "an all-but forgotten inner-city school where extraordinary is normal", the comedy-mystery series has a writing team lead by Josh Weinstein, whose credits include The Simpsons and Futurama.
Other contributors include Emma Kennedy, Mark Oswin, and prolific gag and sketch writers Jason Hazeley and Joel Morris, whose past work includes That Mitchell And Webb Look, Sorry, I've Got No Head, Charlie Brooker's Weekly Wipe, and A Touch Of Cloth.
Emma Kennedy will also star in the series as Becky Butters, an "over-confident under-achiever", alongside The IT Crowd's Richard Ayoade who will voice class nerd Templeton. Stand-up comic and former rapper Doc Brown has provided the voice for new boy Mitchell Tanner, whilst other vocal talent includes John Thomson and Caroline Aherne.
Becky Butters is a notable creation, as she is the first ever animated character to be officially awarded a Blue Peter badge.
The programme is a co-production between the BBC, Factory Transmedia and Fremantle Media. Series creators Yoshimi & Katoi told British Comedy Guide today: "We're delighted that the BBC have commissioned a second series of Strange Hill High, and can't wait for children to see the fun and adventures in Series 1."
The comedy is produced using an innovative technique of Yoshimi & Katoi's own invention, Hypervynorama, which combines traditional stop-motion puppetry using Japanese-style vinyl figures with modern computer graphic animation. Models were build to Yoshimi & Katoi's designs by renowned puppet makers Mackinnon & Saunders, a company whose credits include Tim Burton's film The Corpse Bride and Bob The Builder.
Bob Higgins of Fremantle's kids and family division said today: "We are thrilled that CBBC has committed to a second season of Strange Hill High. This early pick up speaks volumes about the quality of the first season episodes and the incredible talent behind the show. It's daring, distinctive, unlike anything currently on air and will have the audience in stitches."
The first 13-part series is due to begin this Spring, expected in either late March or early April. The second series, also of 13 episodes, is planned for transmission in 2014.
Share this page