More Christmas specials ordered for Mrs. Brown's Boys
More Christmas specials ordered for Mrs. Brown's Boys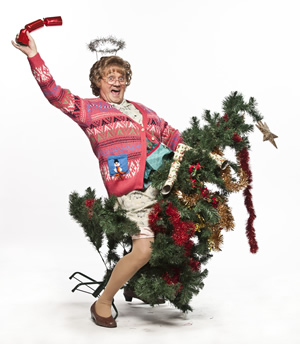 BBC One has announced that it has ordered two further special episodes of smash-hit sitcom Mrs Brown's Boys, to be broadcast this Christmas.
The sitcom is currently enjoying massive ratings for the channel, reaching a combined audience average of 14.4 million viewers each week, making it the most popular BBC sitcom for many years. A fourth series is widely expected to be commissioned, but as reported yesterday, may not be on air for another two years due to other commitments.
Christmas 2012 saw two specials of the Dublin-set sitcom broadcast, on Christmas Eve and Boxing Day respectively, and were enjoyed by a combined audience of 15 million each. The BBC is keen to recreate that ratings-winning success again for Christmas 2013.
BBC One boss Danny Cohen said today he is "absolutely delighted" to order the specials, whilst the sitcom's writer, creator and star, Brendan O'Carroll, remarked: "I'm thrilled that the BBC has asked us to be part of its Christmas again this year. It's a great privilege to be invited into people's homes at such a magical time of year."
The cast will be embarking on a new live stage tour across the UK and Ireland this Spring, before filming a big-screen spin-off from September, due to be released in Summer 2014. It is expected that the two Christmas specials will be recorded either in the middle of this Summer, or early Winter after completion of the film. Tickets will be available nearer the time.
The final episode in the current third series of Mrs Brown's Boys will be broadcast on Monday 4th February at 9:30pm on BBC One. Here's a preview clip from the episode.
Share this page