Miranda & Mrs. Brown's Boys highest rated sitcoms for years
Miranda & Mrs. Brown's Boys highest rated sitcoms for years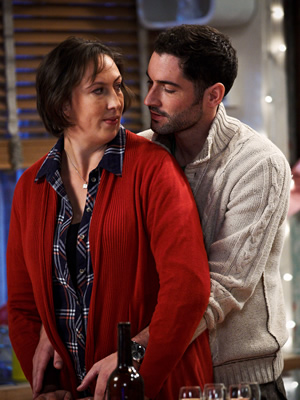 Smash hit BBC sitcom Miranda ended its third series last night with an incredibly strong overnight audience figure of just over 7 million viewers.
The third run of the popular sitcom, written by and co-starring Miranda Hart, in its first series on BBC One since moving from BBC Two, opened with 9.47 million viewers on Boxing Day, before settling to a steady viewership around the 7 million mark for the remainder of its run. Across its six episodes, the series averaged 7.64 million viewers.
Meanwhile, Mrs Brown's Boys, the runaway British-Irish sitcom success that has been following Miranda in BBC One's Monday night line-up, attracted 81,000 more viewers, recording an overnight ratings figure of 7.09 million - 27.9% of the audience between 9:30 and 10:00pm, compared to Miranda's 27.1% share the thirty minutes beforehand.
Consolidated figures for each series, which include repeats and iPlayer views are not yet available in entirety, but initial ratings data from the start of comedies' runs suggest both sitcoms have been watched by over 10m viewers across each week. For example, as testament to its popularity, the Saturday repeat of last week's episode of Mrs Brown's Boys attracted 4.6 million (on top of the 7.09m who watched on Monday), a rating figure higher than brand new episode of The Jonathan Ross Show (with 2.7m).
The impressive figures make Miranda and Mrs Brown's Boys near neck-and-neck the most popular sitcoms on British television since Gavin & Stacey Series 3, which concluded on New Year's Day 2010.
The final episode of Miranda left viewers with a cliffhanger as the title character found herself propositioned by two charming love interests in front of friends and family; long-term on-off boyfriend Gary (Tom Ellis, pictured, above) and handsome TV news reporter Mike (Bo Poraj). Mrs Brown's Boys, meanwhile, has one episode left to broadcast, scheduled to air next Monday at 9:30pm.
Whilst neither Mrs Brown's Boys nor Miranda has yet been recommissioned, the continued blooming success of both formats makes it highly likely that the BBC will order more episodes, with BBC One controller Danny Cohen already on record expressing his eagerness for further series.
However, fans of each show could have to wait two years or more to see the titles return to screen. As reported last week, Mrs Brown's Boys' creator, writer and star Brendan O'Carroll has revealed that he had only ever intended to make three series of hit sitcom, but has been so bowled over by its popularity that he would like to write a fourth. However, a film, backed by Universal Studios, will go into production in September for a 2014 release, and with the first half of the year taken up by a live tour across the UK and Ireland for the cast; it could well be Autumn or Winter 2014 before they are able to get back into the studio, raising the possibility of an early 2015 broadcast for a fourth series of the Dublin-set show.
Miranda Hart has a similar raft of commitments. The comic is understood to be working with the BBC to develop her own film; confirmed a fortnight ago that she will write a second book; and is also planning a UK-wide arena stand-up tour for early 2014. After a two year wait between the sitcom's second and third series, Hart is likely to again take some time to write the show.
The BBC is expected to confirm its plans for future sitcom commissions soon.
Here's a preview from the upcoming series finale of Mrs Brown's Boys:
Share this page