Dawn French & Rebecca Front sign up for The Wrong Mans
Dawn French & Rebecca Front sign up for The Wrong Mans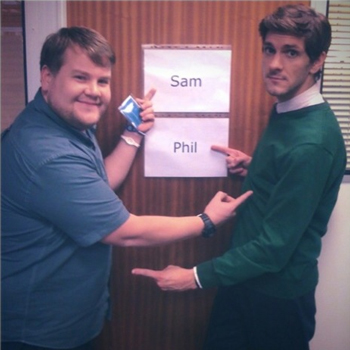 More casting details have been announced for The Wrong Mans, the new BBC Two comedy series co-starring Gavin & Stacey's James Corden and Horrible Histories actor Mathew Baynton.
In the dark six-part comedy, Corden and Baynton (pictured) play lowly office workers who become caught up in a deadly criminal conspiracy after one of them discovers a ringing phone at the scene of a horrific car crash. Answering this phone turns their world upside down, as they soon realise it is up to them to step up and save the day.
The BBC describes the show as follows: "The menial existence of hapless duo Phil Bourne (Corden) and Sam Pinkett (Baynton) is turned upside-down by a chance phone call and a case of mistaken identity. Their lives soon become embroiled in a world of unexpected international conspiracy and intrigue, with the mysterious Scarlett and Stevens at the heart of the unfurling chaos."
The BBC has announced today that Dawn French (The Vicar Of Dibley) will play Phil's resourceful mother, Linda Bourne, whilst Rebecca Front (The Thick Of It) will take on the role of Cox, the ballsy head of MI5 investigating the international plot.
Also, notably, Sarah Solemani (Him & Her) has been cast to play Lizzie Green, Sam's former flame and boss in his local council job. Tom Basden (Cowards), who has co-written the show alongside Corden and Baynton, also has a major role.
Other comic actors on the cast list include Dan Renton Skinner (Angelos Epithemiou) and Rufus Jones (Hunderby).
Emilia Fox, who plays Dr Nikki Alexander in Silent Witness and Morgause in Merlin, will appear as the mysterious Scarlett; whilst Lock Stock actor Nick Moran will play Stevens. Other names on the list include Karel Roden (The Bourne Supremacy), Stephen Campbell Moore (The History Boys) and Benedict Wong (15 Storeys High).
The Wrong Mans is currently being filmed for transmission on BBC Two later in the year. A co-production between the BBC and US on-demand service Hulu, the programme is being produced and directed by Jim Field Smith, the director of the last series of Matt Le Blanc comedy Episodes.
Dawn French and Rebecca Front are both busy with many TV projects. French stars in Sue Perkins's forthcoming new sitcom, Heading Out; whilst Front - who takes the lead in new Sky Living comedy The Spa - is working on various projects, including a series of Sky Atlantic sketch show Psychobitches.
Share this page