Kelly Brook to join Celebrity Juice as team captain
Kelly Brook to join Celebrity Juice as team captain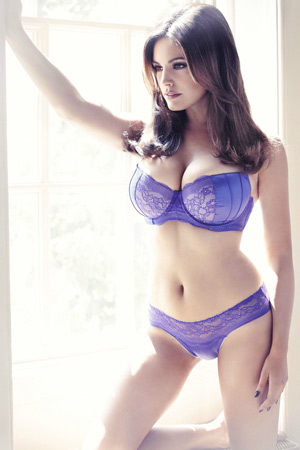 Model and actress Kelly Brook has been revealed as the temporary new team captain of ITV2 panel show Celebrity Juice.
Hosted by comedy character Keith Lemon, the programme pokes fun at the world of celebrity, involving its guests and captains - including A-list popstars, actors, Z-list 'personalities' and sportsmen - in an ever-changing array of anarchic games and off-the-wall quiz rounds.
Despite being criticised by some for its crude humour, Celebrity Juice is a big hit with audiences. It is the single most high-rating programme on ITV2, often attracting up to 2 million viewers, and one of the most popular comedies across all digital terrestrial channels.
The curvy model has only previously appeared on the programme once, in the first episode of the most recent eighth series. She will be taking over Fearne Cotton's team captain role on the show whilst the radio and TV presenter takes a year off to give birth and begin raising her first child.
Keith Lemon, aka comic actor Leigh Francis, will return as the show's irrepressible host, with Holly Willoughby continuing as the opposing regular team captain.
Dan Baldwin, the Executive Producer on Celebrity Juice says: "Celebrity Juice will be celebrating its 100th episode this series so we will be marking the occasion with some very special surprises throughout... however even bigger news is that Kelly Brook will be replacing Fearne as team captain for this series. Obviously Kelly was chosen because she is so similar to Fearne physically and has nothing to do with the fact that Keith would love to **** her and he thinks by grinding her down week-in week-out is his best shot. And when I say **** I obviously mean LOVE." He added: "We are absolutely delighted that Kelly is joining the team. On a personal note I don't think I have ever worked with a better looking cast... and I include Keith in that."
Lemon comments in character: "I really didn't think we could replace Fearne Cotton but now we've got Kelly Brook I hope Fearne don't come back. Only joking - hope you have a smooth delivery Fearne - miss you. The two main reasons we've chosen Kelly Brook are obvious - her bangers. Just hope Holly don't get jealous."
Talking about joining the show, Kelly Brook says: "Celebrity Juice is my favourite show! I'm really excited to be working alongside my friends Keith and Holly, and will have a lot of fun keeping Fearne's seat warm until she returns."
Holly Willoughby adds: "I'm really pleased that Kelly is going to be the new team captain on Celebrity Juice. She's been on the show before - we had a right laugh filming that episode and I know I'm going to enjoy working with her. However, I also realise Keith is going to try and make us kiss in every episode..."
Meanwhile Fearne Cotton commented: "I'm obviously gutted to be missing out on the new series of Celebrity Juice and will miss everyone a lot but am so happy Kelly will be joining the team until I'm back. She is used to Keith's ways, can hold her own and has ample assets to keep my seat warm till I'm back in September!"
Dan Baldwin, who is also the husband of Willoughby, later joked on Twitter: "I can also reveal the brand new first round in the new series of Celeb Juice... Bikini Team Captain Mud Wrestling."
The next series, Series 9, will start in late February. The 14-part series will see Keith continuing to battle it out with Jedward and a host of showbiz names in a series of chaotic challenges.
Whilst she has only appeared on the hit panel game once, Brook appeared alongside Francis in his first big screen outing last year, Keith Lemon: The Film. Here's a teaser trailer featuring the model:
The following video contains the full Celebrity Juice episode in which Brook was a guest.
Share this page