Pulling and Gavin & Stacey set for US pilots
Pulling and Gavin & Stacey set for US pilots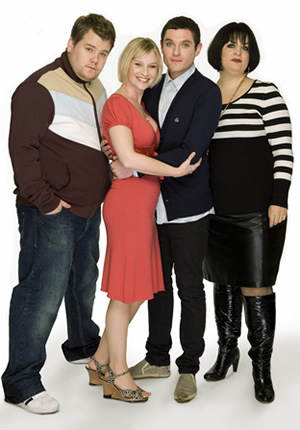 Both Pulling and Gavin & Stacey are to be piloted for top US networks this year, it has been announced.
Fox has ordered a pilot episode of Friends And Family, based on James Corden and Ruth Jones' hit romantic comedy series Gavin & Stacey.
Meanwhile, the Disney-owned ABC network has commissioned a pilot based on Sharon Horgan's critically acclaimed Pulling. Both series originated on BBC Three.
Pulling's adaptation has been written by Lee Eisenberg and Gene Stupnitsky, who are currently working on Stephen Merchant's new American sitcom Hello Ladies, and have also penned the script for the upcoming third installment in the Ghostbusters movie franchise.
The creator and writer of a cult MTV comedy series titled I Just Want My Pants Back, David Rosen, has penned Friends And Family. Unlike the original Gavin & Stacey premise, the American remake appears to focus on an established couple as they struggle to keep their sanity and relationship afloat whilst combining the lives of their wildly differing families wherever possible.
If the pilots are received warmly by the respective network executives, full series could be on screen later this year. In the UK, despite calls from fans for the return of both series, each programme's creators and stars remain adamant that neither are remotely likely.
The news comes at a time when American television networks are picking up British comedy series in their droves. MTV recently broadcast an adaptation of The Inbetweeners, although it was cancelled after just one season, whilst a full series of Family Tools, adapted from Adrian Poynton's BBC Three sitcom White Van Man, has already been filmed and will begin broadcasting on the ABC network on May 1st.
The same network shelved a planned remake of Only Fools And Horses last year after a number of unsatisfactory pilots, and are now developing a US version of 2006 police comedy Feel The Force.
Share this page