Miranda Hart announces second book
Miranda Hart announces second book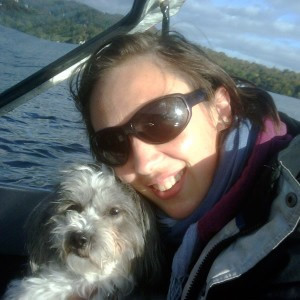 Miranda Hart has announced that she is to write a second book.
Peggy & Me, to be published in 2014, will see the comedy star 'write about her day-to-day life and adventures with her faithful dog Peggy as well as sharing their joint observations on life.'
The book will be published by Hodder & Stoughton, who also backed Hart's first book, Is It Just Me?, published in mid October 2012.
Described as a 'manual for life', Is It Just Me? was one of the best-selling books of 2012, becoming the Sunday Times Number One Christmas best-seller, and reportedly making more than £1m in sales by the beginning of December.
The publishers say: "The huge success of her first book shows just what a national treasure Miranda is and how eagerly her fans will await the next slice of her take on life - with invaluable contributions from the irresistible Peggy."
Hannah Black, who edited the first book, comments: "Miranda is loved by so many. But as the saying goes, behind every great woman stands a very small and opinionated dog. We're absolutely delighted at Hodder that Peggy has finally agreed to join her mistress and put paw to paper."
Hart herself says: "I am so thrilled to have the chance to write a second book and look forward to sharing the comic trials and tribulations I have encountered with the wonderful gift that is dog ownership. I hope it isn't just me on this one too. Peggy has already changed with fame and is currently lying on a chaise with a gin in her paw saying 'don't worry reader, I'll mainly write this one and will dish the dirt on my ridiculous owner'."
Gordon Wise, Hart's agent at Curtis Brown, adds: "Peggy is very particular about who she works with, but after a lot of persuasion agreed with Miranda and me that Hodder were the right publishers for a book about which she feels so passionately."
Miranda Hart has become one of Britain's biggest comedy stars over the last 12 months. The third series of her sitcom Miranda is currently airing on Monday nights and, following its move to BBC One, is now attracting ratings that are described as 'spectacular'. Last Monday's episode of the comedy was watched by over 7 million viewers.
Next year will be a big year for the sitcom star, as not only will she be publishing Peggy & Me but she has also announced she is to perform her first stadium stand-up tour.
Two of Britain's most famous comedy stars are also to release autobiographies in 2014. John Cleese is currently writing his, whilst Sir David Jason is expected to publish his much-anticipated life story then, too.
In the video below, Hart reads an extract from her first book, which at the time of writing is available to buy from Amazon for £9.
Miranda continues on BBC One on Monday with guest star Gary Barlow. See our detailed programme guide for details, pictures and preview clips. Below is a behind-the-scenes video from the last episode:
Share this page