Graham Norton to host seven hour Comic Relief chat show
Graham Norton to host seven hour Comic Relief chat show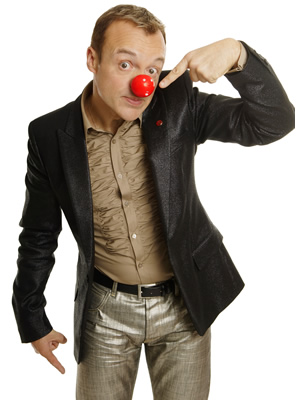 Graham Norton will reportedly host a seven hour version of his chat show, to tie in with the BBC's Comic Relief fundraising night.
The Sun reports that the comedian will take over BBC Three's entire schedule, from 7pm to 2am, one evening in March - with the show broadcasting live. However, it's not clear if this will be on 'Red Nose Day' itself, which will be Friday 15th March 2013.
The production team are reportedly looking to book up to 50 guests and musical acts for Graham to interview across the seven hours, with David Walliams, Miranda Hart and Doctor Who star Matt Smith amongst those already invited.
The newspaper reports: "It will take the format of his usual Friday night show and guests will be wheeled in and out throughout the night. Producers are planning a few surprises to give the evening some twists and turns."
A production source told the tabloid: "This will be the most exhausting thing Graham has ever done. Seven hours of live telly is no mean feat so Graham is booking people he knows will lift his spirits. There will be all the usual banter and silly clips and there will be some big set pieces too, which are being thrashed out now."
Comic Relief, which was founded in 1985 by Richard Curtis and Lenny Henry in response to famine in Ethiopia, takes place once every two years. The 2011 fundraising drive closed with a record breaking 'on the night' total of over £74m. As part of the fundraising Chris Moyles broadcast on Radio 1 for over 50 hours, and David Walliams spent 24 hours playing various panel games in red button show 24 Hour Panel People.
It has also been revealed that, for this year's Comic Relief, stand-up comedian Mark Watson will host a 25-hour live comedy show at a theatre in London at the end of February. Writing on his blog, the comedian revealed "It is their 25th anniversary this year; they asked for a 25-hour show. Featuring challenges by members of the public and audience members alike, being broadcast on various radio stations and streamed online, and all in all making money for good causes."
The full line-up for Comic Relief will be announced nearer the time. The first tie-in programme will be cooking show The Great Comic Relief Bake Off, which starts next Monday. Contestants include Bob Mortimer, Stephen K Amos, Jo Brand, Watson & Oliver, Ed Byrne and Warwick Davis. Below is a trailer:
Share this page