BBC sitcom Hebburn gets second series
BBC sitcom Hebburn gets second series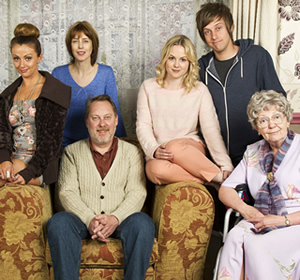 The BBC has confirmed that it has ordered a second series of Hebburn, the hit new sitcom series set in the North East.
The second series will comprise of a further six episodes, expected to broadcast in the Autumn, as well as a Christmas special.
Created by stand-up comedian Jason Cook and co-written with Ideal writer Graham Duff, Hebburn focusses on the Pearson family, in particular their impetuous and ambitious son Jack and his new wife, Sarah.
The sitcom features an ensemble cast that includes Gina McKee, Vic Reeves (credited as Jim Moir), stand-up Chris Ramsey and Fresh Meat's Kimberley Nixon.
News of the re-commission had been expected for some time as the comedy quickly picked up many fans when Series 1 was broadcast from October last year. The programme also received good preview reviews and posted ratings figures of over two million, a very healthy figure for a modern BBC Two series and higher than many of its contemporaries.
However, the series drew criticism from limited quarters and real-life Hebburn councillor John McCabe told the local newspaper: "The show has cast a bad light on Hebburn when the complete opposite is true. It's quite sad that people nationally will think this is how we behave - I'm very disappointed and dismayed by it all."
Series 2 will pick up the story from where the first series left off. The final episode saw Jack and Sarah's second 'wedding' being abruptly cancelled when Jack's father Joe had a stroke. The family now face an uncertain future, particularly given that Sarah is also pregnant. However, Jack finally has a secure job in the form of Editor of the Hebburn Advertiser.
Creator Jason Cook, who also co-stars as Jack's best friend, Ramsey, says: "I'm obviously proper over the moon about the second series. Series 1 was so well received that we always had hopes of getting re-commissioned but now it's real! And having a Christmas special really is the icing on the cake; I got quite giddy when I was told we'd got that. There's loads planned for 'Hebburn 2.0' and we can't give anything away - although I can say that we are finally going to find out what Winnie did."
BBC Comedy Commissioning Editor Kristian Smith said today: "I'm thrilled that audiences have taken Hebburn to their hearts as much as we have, and delighted we're making a second series. Jason's creation is a brilliant piece of comedy and we're so lucky to have such a phenomenal cast bringing it all to life."
Series 2 will again be filmed on location in Hebburn and in studios at MediaCityUK in Salford. The show is produced by Channel X and Baby Cow Productions.
2013 is shaping up to be a busy year for Baby Cow, with re-commissions for Alan Partridge's Mid Morning Matters, Moone Boy and Starlings alongside new shows that include Malachy's Millions, Undercover and The Wild World Of Warren.
All the Hebburn cast members, including Lisa McGrillis (Vicki), Neil Grainger (Gervaise), Victoria Elliott (Denise), Pat Dunn (Dot) and Steffen Peddie (Big Keith) have signed up for Series 2.
Below is a video in which Jason Cook talks about creating the series:
Share this page