E4 reportedly gives Misfits a fifth series
E4 reportedly gives Misfits a fifth series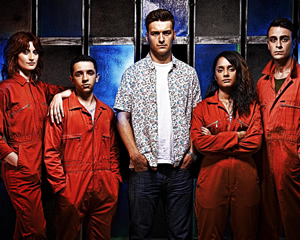 E4 has reportedly ordered a fifth series of Misfits, its sci-fi comedy drama series following the adventures of a group of young offenders with supernatural abilities who have to undertake mundane community service tasks.
The network hasn't officially confirmed the news, but Patrick Munn, writing on industry blog TVWise, reports: "My sources are telling me that executives at E4 have renewed their dramedy series Misifts for a fifth season, which is set to air in late 2013."
It is believed the new series will comprise of eight episodes - the same length as the previous two series.
Misfits, created by Howard Overman, has navigated through tricky casting situations since it was first screened in 2009. After four series, none of the initial cast are still involved with the show. Robert Sheehan, Iwan Rheon, Lauren Socha, Antonia Thomas all left in previous series and Nathan Stewart-Jarrett was written out of the show in the most recent run.
The line-up going into the fifth series from the end of the fourth series (pictured) is Joe Gilgun as Rudy, Karla Crome as Jess, Nathan McMullen as Finn and Matt Stokoe as Matt, with Natasha O'Keeffe as new character Abbey.
TVWise adds: "Despite some declines in the ratings, a fifth season renewal for Misfits had been considered likely and production company Clerkenwell Films had already begun staffing the writers room in anticipation of a pick up. As part of that staffing effort, Clerkenwell recruited Mike O'Leary - the writer behind the Misfits: Strung Out web-series as well as the Misfits companion book - to serve on the show's writing staff for Season 5."
Below is a clip from Misfits: Strung Out, in which a puppet version of Finn sings 'The Ballad of Anal Mary':
Share this page