Miranda tops Christmas ratings with huge audience over 9m+
Miranda tops Christmas ratings with huge audience over 9m+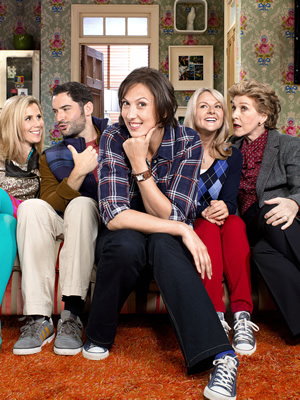 Miranda, the hit comedy starring Miranda Hart, attracted well over 9 million viewers on Boxing Day.
The huge figure, based on overnight data estimates from audience research company BARB, makes the sitcom the biggest TV hit of the festive period.
By contrast, other contemporary British comedies rarely top the 4m mark.
The show's 9.47m rating, which represents a 37% audience share, is even higher than the 9.37m figure achieved by the Christmas Day episode of EastEnders (normally the period's biggest ratings hit). Miranda also beat the much publicised Downtown Abbey special (6.83m), and other festive 'ratings bankers' such as Doctor Who (7.58m) and Strictly Come Dancing (7.76m). The programme also topped a special of hit drama Call The Midwife, with 7.27m viewers.
Having started life as a radio sitcom, Miranda is now on its third TV series. Having previously run on BBC Two, the comedy has now moved to BBC One, a move which appears to be paying big dividends. 9.47m is more than three times larger than the 2.84m that tuned into the first episode of the second series in November 2010.
Miranda wasn't the only comedy to perform well during Christmas. The two festive specials from Mrs Brown's Boys also attracted audiences in their millions. The Christmas Eve episode attracted 8.78m viewers, and the Boxing Day episode, following on from Miranda, picked up 9m viewers.
Elsewhere in the schedules, the TV adaptation of David Walliams's book Mr Stink pleased 6.3 million in its early-evening 6:30pm slot on the 23rd December; the new festive special of family comedy Outnumbered posted a ratings figure of 7.84m on Christmas Eve, and the Christmas Day episode of The Royle Family was watched by 7.68 million viewers according to the statistics.
A full summary of ratings is below.
The success of the new series of Miranda cements its creator Miranda Hart as one of the UK's top comedy stars. Hart's book Is It Just Me? was one of this year's best-sellers, and earlier in the month the star announced a stand-up show for 2014, which will take place in arena-sized venues.
The new series of Miranda continues on New Year's Day. A clip from the second episode is below. Subsequent episodes in the series will broadcast on Monday nights from 9pm, with new Mrs Brown's Boys at 9:30pm.
Ratings Summary

Below is a summary of the ratings for the main new British comedy broadcasts over the festive period. Not every new comedy show is mentioned here, as not all data is yet available:
23rd December
Mr Stink (BBC One, 6:30pm): 6.34m (27.3% share)
Mount Pleasant (Sky Living, 9pm): 0.37m (1.5%)
Peep Show (Channel 4, 10:30pm): 0.58m (2.9%)
The Sarah Millican Television Programme (BBC Two, 10:30pm): 1.77m (9.3%)
Christmas Eve
Morecambe & Wise: Song & Dance (BBC Two, 7:30pm): 2.35m (9%)
8 Out Of 10 Cats (Channel 4, 9pm): 2.25m (8.8%)
Trollied (Sky1, 9pm): 0.47m (1.8%)
Outnumbered (BBC One, 9:35pm): 7.84m (31.4%)
The Many Faces Of Ronnie Barker (BBC Two, 9:40pm): 2.11m (8.6%)
Peep Show (Channel 4, 10pm): 1.41m (5.8%)
Mrs Brown's Boys (BBC One, 10:15pm): 8.78m (36.9%)
Friday Night Dinner (Channel 4, 10:30pm): 1.39m (6.4%)
Christmas Day
Alan Carr: Chatty Man (Channel 4, 9pm): 1.62m (4.7%)
The Royle Family (BBC One, 9:45pm): 7.68m (30.1%)
Boxing Day
Miranda (BBC One, 9pm): 9.47m (37.8%)
Mrs Brown's Boys (BBC One, 9:30pm): 9m (36.9%)
Share this page