ITV4 to show animated sitcom about a football fan
ITV4 to show animated sitcom about a football fan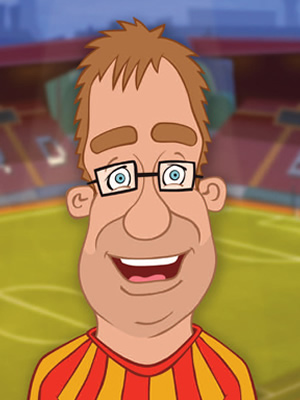 ITV has ordered a six-part cartoon sitcom series called The Wild World Of Warren.
The comedy will focus on Warren, a 37 year-old man "who hasn't grown out of being a football fanatic", observing as his love of the game, particularly his team Brainsford United, starts to impinge upon his family life.
Warren's Dutch wife is called Ingrid (they met during a PSV Eindhoven match), and together they have one son (Harrison) and one daughter (Charlie).
Darren Boyd, the star of hit sitcom Spy, will provide the voice for the football-obsessed dad, with Nitin Ganatra (Mumbai Calling, Masood in EastEnders) voicing Warren's best friend, who is also his co-worker at a kitchen supplier.
Other names on the cast list include Morwenna Banks (Saxondale), stand-up comedian Tony Law, and Morgana Robinson, the VIP impressionist who was named Best Breakthrough Act at this year's British Comedy Awards.
The show has been conceived by Simon Nye, the comedy writer behind many TV sitcoms. Nye's previous work includes Men Behaving Badly, Is It Legal?, Carrie & Barry, Just William, In With The Flynns and the Reggie Perrin re-make. Nye has also worked with David Walliams on this year's one-off Mr Stink special.
The Wild World Of Warren started life as a pilot for UKTV digital channel Dave, but has now been picked up for a full series by ITV. It is believed the network will show the comedy on the male-orientated ITV4.
TV Burp writer David Quantick and stand-up comedian Dominic Holland have joined Nye in penning the series. Writing on his blog yesterday, Holland revealed: "Many false starts along the way as happens with all such ventures, but I am delighted to say that The Wild World Of Warren is now being produced by Baby Cow Productions for ITV and will be on your screens in 2013."
Baby Cow has an established animation division, with recent output including this year's one-off re-telling of the Nativity, The Cow That Almost Missed Christmas; plus Uncle Wormsley's Christmas, which will be shown on Christmas Eve on Sky Atlantic.
The production company is currently working on a significant number of new TV projects. Currently in production are new series of Alan Partridge's Mid Morning Matters, Moone Boy and Starlings for Sky; Peter Kay's new show Malachy's Millions for Channel 4; new sitcom pilot Undercover; and a series of ten mockumentary shorts called Common Ground.
Baby Cow have also worked with ITV to create Panto!, John Bishop's one-off comedy drama based around a local theatre pantomime production. The programme will air on ITV1 on Thursday 27th December.
Tim Searle, who is directing The Wild World Of Warren, told Chortle: "Warren is 37 and a half and crazy about football. But really he could be crazy about fly fishing, motorbikes or anything. It's what happens to blokes in middle-age - they've got families they love but they need these passions to divert them from the horror of their lives." He also explained that Brainsford are "not a stellar club by any means, though they're not rubbish. They give him just enough reason to keep believing."
Full English, Britain's most recent animated sitcom, was met with lukewarm reviews and compared unfavourably to the hit American sitcoms The Simpsons, Family Guy and American Dad!. At the time of writing, Channel 4 have shelved the final episode for fear of causing offence.
The Wild World If Warren is expected to air on ITV4 from October 2013. The Freeview channel has in the past screened various sport related comedy programmes, including Eurogeddon with Jason Manford; John Bishop's World Cup Diary animations; panel show Mark Watson Kicks Off; darts mockumentary Good Arrows; and spoof commentary show Sports Mash.
Share this page