Simon Amstell confirms no further series of Grandma's House
Simon Amstell confirms no further series of Grandma's House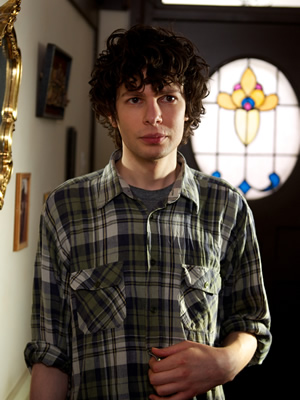 Simon Amstell has confirmed he doesn't plan to make any more episodes of his sitcom Grandma's House.
The BBC Two comedy, which he co-wrote with Dan Swimer, was a fictionalised version of his own life and Jewish family background. The show ran for 12 episodes, with the first series broadcast in 2010 and the second in April and May 2012.
Set at Simon's grandmother's home, the programme was subject to heavy criticism during its first few episodes, with critics particularly focussing on Amstell's "wooden" acting style. However, as the show progressed, the majority of mainstream media reviews swung to being very positive.
Talking on Radio 1 today, Amstell confirmed he had no intention to produce a third series. Presenter Nick Grimshaw asked the comedian: "Is there another series of Grandma's House coming to the BBC?", to which Amstell replied: "No. We felt we'd written all the pain out of us, so it'd be gratuitous to keep going."
He elaborated: "I sort of leave things once I know how to do them and they've become good, which is upsetting I think for the public because it'd be nice if I could keep [going]."
The comedian said it was the same case with Popworld and Never Mind The Buzzcocks, two shows he has walked from previously: "It just feels gratuitous to sort of know how to do something and keep doing it."
Grimshaw protested "But people like it?", to which Amstell replied: "I know, but then I think, 'they've started liking this, let's get out of here before it turns to hate'... because then the love retains. You have to leave them wanting more. You mustn't leave them wanting less. I learnt that from stand-up. Often I wouldn't know how to leave the stage. It would go very well for 20 minutes, then I'd think 'this is the only place I'm truly happy, just let me stay'... and then soon the room would become upset."
Amstell was appearing on Grimshaw's breakfast programme to promote the broadcast of Numb: Simon Amstell Live At The BBC, which will be shown on BBC Four on New Year's Eve. He explained why he was performing his show for TV rather than releasing it as a DVD, saying: "Everyone does these DVDs and they're sort of awful - there's so many. It used to be a special thing. You'd feel like you'd achieved something as a comedian to have your work committed to film and now every bloody idiot has got a stand-up DVD, so you're constantly trying to find ways to retain - you know, as a narcissist - to retain the 'special and interesting'. So I thought 'let's just film it for the BBC', and it's like a stripped down studio and there's no set there's nothing shiny about it. It's just an hour of this stand-up comedy."
During the half-hour interview Amstell questioned if Radio 1 was really the ideal platform via which to promote his high-brow stand-up show, saying: "Is this the right place to be talking about something that's going to be on BBC Four?", later adding in reference to the New Year's Eve broadcast slot: "I worry the people listening are the sort of people who are fun and will have friends, but if anyone is listening who knows people who are lonely - tell them it's on at 9:30pm."
One listener sent in the question "Why did you leave Buzzcocks and any chance of returning?", to which he simply replied: "I was bored, and no".
Simon Amstell also explained his discomfort at engaging with Twitter followers, and teased Nick Grimshaw for being friends with One Direction band member Harry Styles. Russell Howard has also recently joked about this topic, saying on Richard Herring's podcast that it was weird that 28 year-old Grimshaw would play frisbee with 18 year-old Styles.
Grimshaw, who took over the Radio 1 breakfast slot from Chris Moyles in September, has reportedly dropped Call or Delete, his prank call feature. The move follows the suicide of Jacintha Saldanha, the nurse who answered a prank call from Australian radio presenters at the hospital where the Duchess of Cambridge was being treated at the beginning of December.
Below is a clip from Numb, in which Amstell talks about living alone and watching pornography:
Share this page