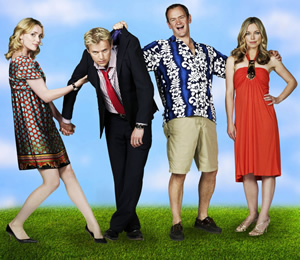 Mutual Friends is a 2008 comedy drama for BBC One written by Anil Gupta and Richard Pinto, writers who had collaborated before on such long-running series as The Kumars At No. 42 and Goodness, Gracious Me.
Mutual Friends is about Martin, a man who's been sleepwalking through his life until he suddenly has the rug pulled out from under his feet when he discovers his wife has been having an affair with his dead best friend. Everything he has just taken for granted suddenly starts to unravel.
The series mainly focuses on male friendship and the battle between family, jobs and responsibilities that are pulling middle-aged men in one direction, and friends which are pulling them the other way. The central character of Martin finds his friend Patrick pulling him in direction of trouble, getting drunk and having care-free fun, whilst his wife Jen is tugging him the other way, asking him: 'What about our marriage, our mortgage, our kids, our house?'
Writer Anil Gupta explains that he and co-writer Richard Pinto were inspired to write the series by many things - but that both of them hitting 40 was a significant if subconscious one. He says: "We wanted to write a comedy drama that had a male relationship at its centre and which was told primarily, but not exclusively, from a male perspective. It felt like there had been quite a lot of female-skewed shows and we wanted to come at it from another angle. We are constantly told that men are emotionally illiterate and unable to express their feelings properly. Generally this is true, but sometimes it's not necessarily a bad thing. Men tend not to ask each other how they are feeling and that can lead to many firm and lasting friendships."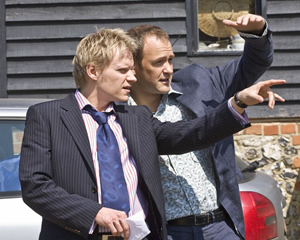 Producer Rob Bullock explains that one of the most important themes of the series, encapsulated by the character of Martin, played by Marc Warren, is 'the woeful plight of modern man'. He elaborates: "Martin has to do the right thing and tick all the right boxes - be strong but also sensitive, reliable but also exciting and unpredictable, etcetera etcetera - and the harder he tries, the more completely clueless he becomes. It's this male perspective that makes the show stand out."
He continues: "Mutual Friends is about chalk and cheese, about people who shared rooms at university and how their lives have turned out nearly 20 years later and about male friendships - inspired by films like Sideways."
Although the catalyst for the story is the death of a close friend, Mutual Friends aim is to also be rich in comedy, as Rob explains: Anil and Richard, the writers, both come from high-profile comic backgrounds. They manage to find comedy in the most unlikely places but in a very real way. The truth of funerals is that not everyone stands around looking absolutely miserable.
There are plenty of tantalising questions in Mutual Friends, as Rob explains: "It's a gripping plot full of strong story strands. Why did Carl kill himself for no apparent reason? What's going to happen to Patrick? What's going to happen to Martin and Jen's marriage? We meet them at a crisis point. The obstacle of Jen's affair is a big thing, obviously, and they try lots of different things to make themselves happy. Jen decides to try for another baby, 'a glue baby' as we've decided to term it."
"Martin is terrified as his financial situation gets more and more desperate over the series. Money worries underpin a lot of the series, and different characters respond in different ways."