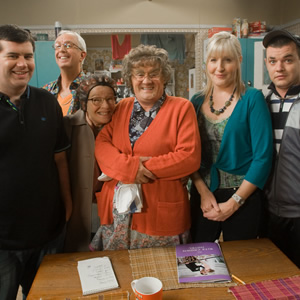 It has been announced that a book linked to the hit BBC One sitcom Mrs. Brown's Boys is in the works.
Mrs. Brown's Family Handbook, an illustrated hardback publication, is set to be launched in shops this autumn.
The handbook, which will feature comic advice on running a household from the popular housewife character, will be written by creator Brendan O'Carroll himself.
The news a book linked to the BAFTA-winning programme is in the works is not surprising, as Mrs Brown's Boys is now one of the BBC's biggest comedy hits. The most recent series of the comedy, from January this year, reached a massive 14.4 million viewers and over 3 million DVDs related to the programme have reportedly now been sold.
The rights for Mrs Brown's Family Handbook have been acquired by a division of Penguin books. Editorial director Daniel Bunyard says: "It's a dream come true to work with Brendan O'Carroll. He is a creative genius, and it will be a privilege for us to offer a home to him as an author. Mrs. Brown's Boys reaches an enormous audience of passionate and devoted fans - it will be an exciting challenge to develop books for them that carry the same fun and warmth as the show."
Speaking in character as Mrs Brown, O'Carroll adds: "I'm delighted to be doing this. I'm mad into books meself. In fact I've two at home that aren't even coloured in yet."
This will not be the first Mrs Brown book. The character first appeared on Irish radio in the early 1990s before O'Carroll penned the first of four novels featuring the character, of which Penguin published internationally. A darkly comic film about 'Agnes Browne' and a series of live stage productions followed, before the hit sitcom began in 2011. The comedian says: "Following the success of the original Agnes Browne trilogy with Penguin in the US, Australia and around the world, it's only right that Mrs Brown remains with Penguin as her home."
The next two years are looking rather busy for the cast of Mrs. Brown's Boys. They are currently on a new live stage tour across the UK and Ireland, and following that are set to film a big-screen spin-off, due to be released in cinemas in the Summer of 2014. They will also film two new Christmas specials for the BBC, and a cartoon version of the popular comedy is also said to be in production. It was also announced this week that O'Carroll is to take the stage show on a tour of Australia next year.
Mrs Brown's Family Handbook will be published in the Autumn. The book will be available to pre-order from later this season.
The previous series of books written by O'Carroll are available to order from Amazon for approximately £7 each. View Books
Published: Friday 12th April 2013