Bob Mortimer and Paul Whitehouse take a quick break from touring the river banks of Britain to talk to British Comedy Guide about the return of their TV show Gone Fishing.
Series 1 was a huge success. Did that response exceed your own expectations?
Paul: I think it definitely exceeded our expectations.
Bob: Yeah, like times ten.
Paul: We were pleasantly surprised by the number of old people that like it. It's quite a nice thing. Maybe it's just because the TV demographic has changed and only old people watch telly these days. We made a programme for people like ourselves basically, and it's great that it's become so popular.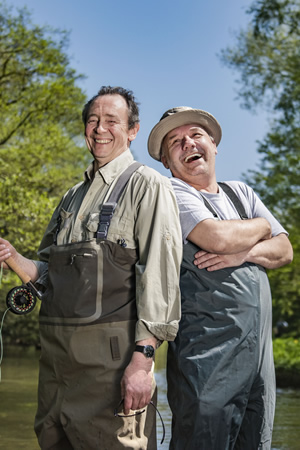 Do you think the show has gone some way to encourage men in particular to open up to their friends more on issues such as physical and mental health?
Paul: I think it has acted as a catalyst. We get a lot of people coming up to us and thanking us, saying they loved the show and that their dad or brother or friend has been to have his heart checked.
Bob: I probably get a Twitter response every day from someone saying that they're having an operation or have had it, and the show has been really nice for them. Which is great, because I remember getting home after having my heart operation and desperately searching for someone in the public eye to look to see what happens to people once they've had that operation, and that they're alright. It's also nice to hear that people have been reconnecting with their friends after watching the show, which is a very important thing when you're knocking on a bit.
Is there an element of competition between you both, trying to make each other laugh?
Bob: Our whole relationship is based on making each other laugh.
Paul: But what we have is very natural. I don't have to lie awake at night thinking up killer gags to really make Bob laugh.
Bob: I went to the doctors yesterday.
Paul: Oh look, here we go.
Bob: And he diagnosed me with hypochondria. I said: 'Oh God, not that as well!'
Paul: Is that one of your internet jokes? Or one you really made up?
Bob: I've never made up a joke in my life.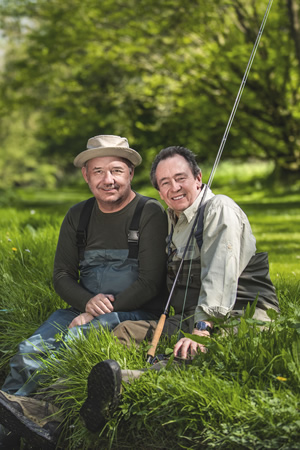 Would you work together again on another project?
Paul: Never!
Bob: Yes, I'd like to take Paul out in a caravan. To Eastern Europe.
Paul: Some old people in Britain would probably watch it.
Bob: We're just exploiting all the past-times of the old. Caravanning, fishing - maybe we should do golf.
Paul: Well we've alluded to golf in this series. Bob takes me golfing one day. He claims he's never done it but he was suspiciously good.
Even with his dodgy shoulder?
Bob: I've just got that problem now that because I've had an operation on one, I've been using the other, except that one is knackered now as well.
Paul: So you've just got one really developed shoulder.
Bob: I'm like an X-Man.
If there was to be a third series, can you envision inviting some special guests to join you on your trips?
Paul: We don't really like other people, do we Bob?
Bob: Two's company, three's a crowd.
Paul: Lee Mack asked if he could come fishing with us.
Bob: No chance.
Paul: Forget it.
How did the idea for the book come about?
Paul: We thought we could be a bit more open in the book about our illnesses, as well as the political situation and challenges that surround rivers and pollution. And as well as that, Bob had tried to take his sons fishing years ago but couldn't find even a very basic guide on how to get started. Everyone assumes you have some basic knowledge to start with, but it's not always the case. So the book is a response to that. We thought we'd try to do it from scratch, talk about our lives and how fishing has helped us recover from our ordeals.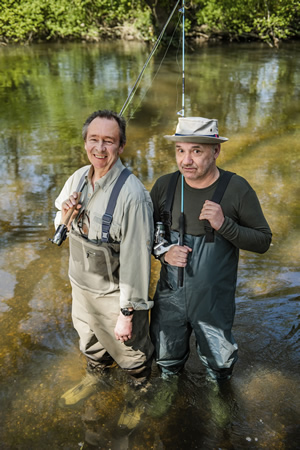 What can we expect from Series 2, is it a natural continuation?
Paul: I was very conscious of the fact it should be more of the same. We go around the regions and there's slightly more dramatic locations. And do you think it's consciously funnier, Bob?
Bob: I think it is funnier because we were feeling a bit more confident. In our minds the first series wasn't a comedy show in the slightest.
Paul: It was a factual commission from the BBC. It was about the beauty of the countryside as much as anything else.
What have you learnt from each other on your fishing trips?
Paul: Bob hasn't been fishing since he was a child, so for him it was genuinely the closest thing to recapturing the carefree days of childhood. Although I love fishing, I wasn't as conscious of that joy and wonder you had as a kid when you went down to a river, and Bob's enthusiasm has reminded me of that. I never took it for granted, but I acknowledge that sense of joy even more now.
Bob: Paul has introduced me to some extraordinary British countryside which I didn't even really know existed. I spent a lot of my childhood on the streets of Middlesbrough and Manchester-
Paul: Dealing what, smack?
Bob: - when all this beauty was right on my doorstep. It's been great.
Paul: The by-product of our heart disease has been a real joyous experience, actually. I hope people take that from the show. Without being too corny, there is life after heart disease.
Have you started doing any exercise yet, Bob?
Bob: No I haven't. Don't ask me that! It's just not in my make-up to do it. I can get out of the bath.
Paul: Without any help?
Bob: I've got a nice little pensioner's technique because I went down a couple of times.
Paul: Do you really think that everyone is going to be impressed by you being able to get out of the bath on your own?
Bob: You have to stretch out your right foot. Or your left! It's up to you, have some fun with it. Stretch it out towards the far end of the bath.
Paul: Surely it depends which way round the bath is, whether you use your left or your right?
Bob: Either way, Paul. Get your hands on the side so you've got three points of contact. Do you see?
Paul: I get it.
Bob: Then you're up and out like a salmon.