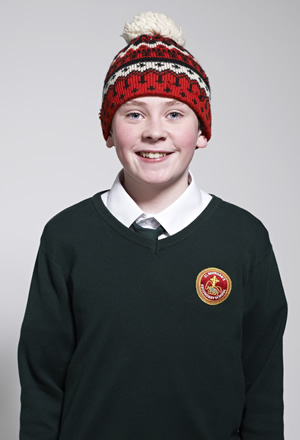 Young David Rawle talks about his character in Moone Boy...
Hi David. Are you anything like Martin Moone?
I suppose I'm a bit like him. I'm not sure if I'm as imaginative, but I like reading and watching the telly and sometimes I do silly things like him, so we're kind of alike.
What can we expect from Series 2? Is there a more grown-up feel to the show as Martin gets older?
Martin's starting secondary school and he falls in love with his teacher who's a little bit crazy. And he does more adult things like getting a job as a golf-ball ball boy, which is very funny. He's growing up a little bit.
What sort of teenager is Martin?
He's imaginative, nice, playful, but also serious sometimes. He's not the smartest person in the world but he means well.
Do you enjoy the 80s and 90s elements of the series, given that you've probably never heard of a lot of them?
I remember reading one of the scripts that said the family were watching TV on a portable telly and I thought, wow, a portable telly, that sounds really cool, we don't have those now. Then when we were filming the scene I saw that it was actually just a really small telly you plugged in, but for some reason they called it portable.
The fashion sense is quite funny. Most things are kind of the same, but different at the same time. I probably wear the same sort of things Martin would wear, but he gets hand-me-downs, so he never really changes his clothes. In all the series he basically wears the same things.
What's it like to work with Chris O'Dowd?
It's fantastic. He's so funny and always laughing and making jokes. He's so talented as well.
Do you have a favourite moment from the series?
In the third episode of Series 2, Martin and Padraic decide to build a raft and those scenes were so much fun. It was me, Ian, Chris and Johnny Vegas, and we were having so much fun on a raft. The cameras were really far away and everyone else was in a boat, so we had a great time.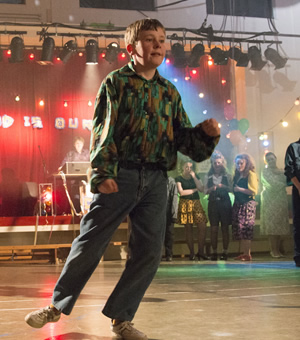 There's quite a lot of dancing involved in Moone Boy. Do you enjoy that?
I'm a terrible dancer. This series I had to get an instructor to choreograph the dance for episode two and she taught me some moves. Then when I went to film it, I did some really bad dancing, the chicken and things that were really embarrassing.
Who gets up to the most mischief on set?
Probably me and Ian [Ian O'Reilly who plays Padraic], we're constantly eating all the biscuits and asking people what their jobs are and annoying them.
Do you have brothers and sisters?
I have two older sisters and Ashton, who's my middle sister helps me with my lines, which is really helpful. I wouldn't be very good without her.
So you can empathise with Martin having three older sisters then?
Yes. Ashton helps me with my lines, but apart from that she's a normal sister who bullies me. I feel for Martin, I know exactly what he's going through.
What's the biggest thing you've learned since being a part of Moone Boy?
To be nice to everybody. There are about 60 people on the crew and it's important to remember everybody's names. I like to listen to what all the different jobs involve, too.
Have Chris or any of the other cast members given you any advice?
Little bits of things, like maybe if you're finding a scene difficult it can be easier if you look away from the person you're acting with. They've told me little things that have really helped.
What has it been like to become a celebrity in a relatively short amount of time? Do you get recognised a lot?
I get recognised sometimes. It's kind of embarrassing. People come over and they're like 'are you Moone Boy?' And when I say yes, they're like 'that's class, can I have a picture?' They take a picture and then they tell their mates and everyone has a camera phone these days, so it's click click click click. It's fun but it can be scary.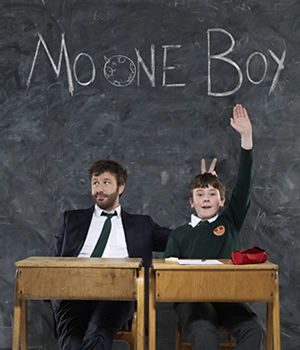 What do your mates think about you being on TV?
I think they've watched it, but they don't really mention it much. I probably talk about it more than they do. They're cool with it.
Who inspired you to act?
There's a small theatre where I'm from that has won a few awards, so I was going to drama lessons just because it was there, really. One day they asked who'd like to go for an audition and that had never happened before, so I put my hand up. I went for the part of Padraic originally, then the producers called and asked if I'd come back and go for Martin and I thought, my God have they got the wrong number? I was doing it for the experience, just to see what was it like, not because I thought I had a chance.
In the next audition I had to learn a script and I only had one week to do it, so it was tricky and I was nervous. Then in the third audition I met Chris for the first time and Declan the director, or 'Direclan' as we call him, and it was so much fun. And I met Ian and Sarah who plays Sinead as well, and I knew instantly they were going to get the parts because they were so good.
There are quite a lot of guest stars in the series. If you could film a scene with anybody in the world, who would it be and why?
I would probably have said someone from Doctor Who but he's gone and got a new face and we don't know what the new guy's like yet. Maybe Jim Carrey or Will Ferrell, because it would be so much fun.
Do you want to continue acting as you get older, or do you have any other career plans?
I'd love to keep on as an actor, but it isn't always a full-time job so I'd want something else to do, although I don't know what that is yet because I'm only young.