Monty Python's Flying Circus - Complete Series 4
To celebrate the 50th anniversary of a genuinely iconic series, Network presents Monty Python's Flying Circus Series 4, starring Graham Chapman, Terry Gilliam, Eric Idle, Terry Jones and Michael Palin, in all its HD glory! This pre-eminent restoration has been produced from the best available materials, painstakingly restored, and terror and destruction are sure to follow.
Previously edited sketches have been returned to their original length, while filmed sequences and Terry Gilliam's animations have been newly scanned in high definition, adding unimaginable depth and clarity to classic moments.
From the archive come genuine rarities including previously unseen studio outtakes and extended versions of filmed sketch material, making this the ultimate in television restoration and a must-have for every generation of Python fan.
First released: Monday 25th May 2020
Extras
The Golden Age Of Ballooning: Extended Barry Zeppelin filmed material
Michael Ellis: Deleted Icelandic Honey Week filmed material, extended Toupee Department and Football Pundits filmed material
LE War: Repeats extended voiceover & unused M2 filmed material, When Does a Dream Begin (clean closing titles)
Hamlet: Extended Queen Victoria Handicap filmed material
Mr Neutron: Reinstated content, extended Mr Neutron Takes Tea filmed material
Party Political Broadcast: Extended Fanshawe-Chumleigh Dinner Party filmed material, deleted Ursula Hitler filmed material
Restoring Flying Circus with Terry Gilliam
In Vision archive interview from December 1974
Birds Eye Peas, Harmony Hairspray and Close-Up Toothpaste product relaunches
This is a special edition Digipak release, featuring an exclusive design with original Gilliam artwork, and additional book by Andrew Pixley featuring an exhaustive episode-by-episode production history of the series.
Distributor: Network
Region: All regions
Discs: 1
Minutes: 171
Buy and sell old and new items
Search for this product on eBay
Distributor: Network
Region: All regions
Buy and sell old and new items
Search for this product on eBay
This DVD release is not in HD, but is generated from the new high-definition remasters.
Distributor: Network
Region: 2
Discs: 2
Minutes: 171
Buy and sell old and new items
Search for this product on eBay
It looks like you're in the US? Fear not! Almost everything can still be ordered.
Amazon UK
deliver internationally,
Amazon.com
carries many items separately, or you can look out for US/Canadian flags on our product listings for direct links.
If ordering from a UK store, please note that you are in Region 1 (DVD)/Region A (Blu-ray), whilst the UK is in Region 2/B, respectively. This means that many - but by no means all - may fail to play. Look for products marked "Region free", "All regions", "Region 0" or "Multi-region". Blu-rays may also be marked "Region A/B/C", "Region free", or variations thereof. You may also check whether your DVD/Blu-ray player supports multi-region playback (also referred to as "region free"), or whether it can be set to do so. There should, of course, be no problems with books, CDs, or other physical items.
More advice & help on importing
See also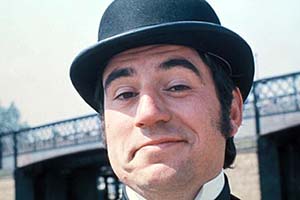 Monday 21st October 2019
A ream of special features - notably including never-before-seen cut-down and removed sketches - have been revealed for the upcoming restored Monty Python's Flying Circus 50th Anniversary Blu-ray and DVD releases.