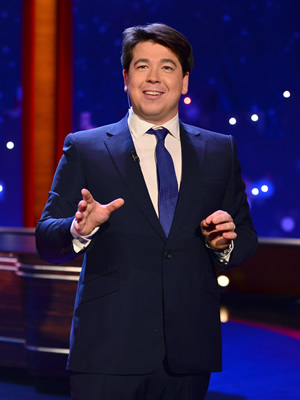 The press has been a bit down on Michael McIntyre's new show - with newspaper articles using headlines like 'where did it all go wrong?' and boldly declaring 'Michael McIntyre Chat Show facing axe'.
However, the BBC tells us they're still very much behind the show - in fact, it's doing rather well in the ratings. This week's episode got 1.9 million viewers... very healthy for the 10:35pm slot. Meanwhile, the first episode of the series has now clocked up consolidated ratings of 3.9 million.
Mark Linsey, Controller, Entertainment Commissioning says: "We're delighted that The Michael McIntyre Chat Show has made such a fantastic start with live +7 figures of 3.9m. For a brand new show to be enjoyed by so many viewers is testament to Michael's huge appeal and fun approach to the chat show genre."
As for the reports about the show facing the axe, a BBC spokesperson told BCG: "In terms of a re-commission it's too early to say officially of course, but signs are encouraging."
Next Monday, Michael McIntyre will be welcoming adventurer Bear Grylls and music star Gary Barlow to his show. The producers have also managed to arrange an interview with Nigella Lawson - the TV chef's private life has been heavily featured in the tabloids this year, so that should be an interesting chat to watch.
This week's episode is repeated on BBC One on Wednesday at 11:05pm. Here's a clip from the show in which Joanna Lumley gives Michael a lesson in car etiquette:
Published: Tuesday 25th March 2014