Win the complete surviving DVD collection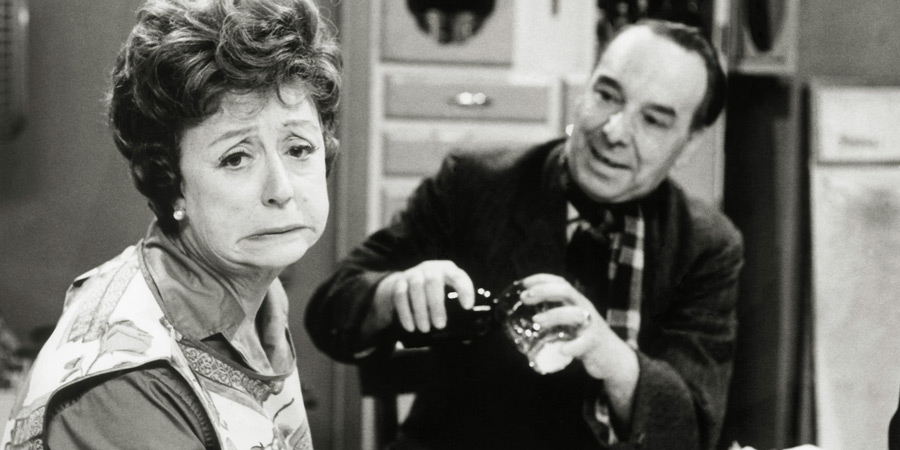 From the writers of The Rag Trade and On The Buses, Ronald Chesney and Ronald Wolfe, comes Meet The Wife, a smash-hit BBC sitcom from the mid-1960s.
Immortalised by The Beatles in their 1967 Sgt Pepper track Good Morning Good Morning - "it's time for tea and Meet The Wife" - the series stars Thora Hird and Freddie Frinton (known to millions around the world for New Year traditional comedy sketch Dinner For One) as Thora and Fred Blacklock, a middle-aged couple in the north of England, just about managing to make ends meet.
Fred is an amiable, hard-working plumber who likes a bet and a pint on the way home, while Thora is an incessant talker with ideas of improving the couple's social standing. Although happy to chatter at Fred in her normal northern accent, in company or on the phone she unfailingly puts on her posh voice - much to Fred's annoyance.
Despite Thora's limitless pickiness and bickering - usually over the most trivial things - there's genuine affection between the pair, and Fred's patience rarely reaches breaking point. It's a partnership that struck a chord with the British public, and confrmed Hird as one of the nation's favourite comic actresses.
Affectionately dissecting the trials and comforts of mid-life marriage after the kids have flown the nest, it ran for 39 episodes over just 5 series from 1963 to 1966, entertaining millions across the country. Just over half of the episodes are now missing believed wiped, but every surviving programme - including the acclaimed Comedy Playhouse pilot, The Bed - is included in this 4-disc set, totalling 8 hours of classic BBC entertainment.