Helen Monks plays Rose, Maxxx's cousin-slash-superfan-slash-stalker Rose.
How different was the experience of filming a full series to filming the Comedy Blaps?
It felt like a totally new show in lots of ways - more people involved and more experimental. [Co-director] Nick Collett is great at unlocking the comedic potential of every scene. He was keen that it looked classy, which makes it even funnier because it's shot like a high-class music video so when things go wrong, it feels like an even more inappropriate setting for that. And we workshopped Rose a lot, which was fun - she's become bigger and bolder.
What appealed about playing Rose?
She's a really unusual young woman in that she really, really likes herself. There's something so fun and refreshing about playing someone who takes up space: you know when she's in the room and she feels like she deserves to be there. Also, she's a bit batshit which helps.
She's Maxxx's cousin and completely obsessed with him because he has, or had, qualities she wants: fame, fortune, and a name in lights. She subscribes to that myth that a lot of young women buy into, that talent is sexually transmitted.
Does she have an awareness that she might be behaving inappropriately at times?
I don't think so. There are a few moments where she's annoyed, when she feels rejected by the world. She doesn't understand why her being bonkers isn't being fully accepted - everyone else is the problem.
She's quite a lonely person, her dad died, and her mum has gone off on a cruise with a new partner, so she's learnt her behaviour from pop culture. Maxxx is pop culture in the flesh, which partly explains her obsession.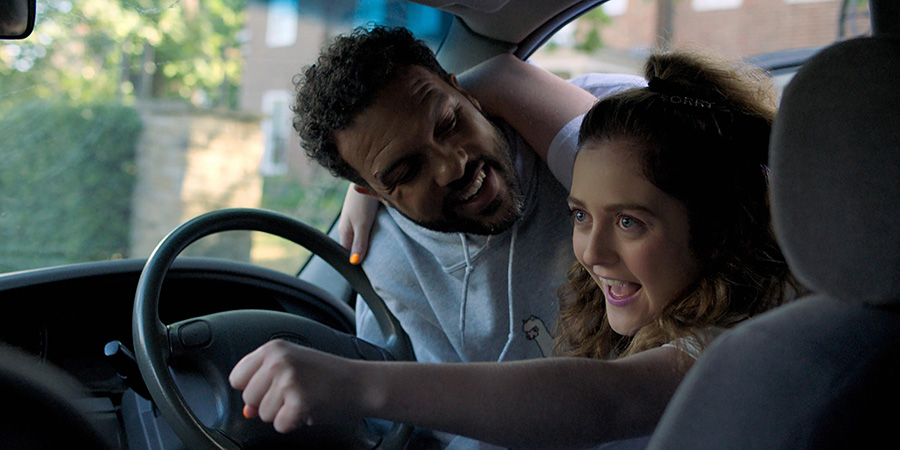 How much of an eye-opener is it for Rose to enter the showbiz world?
She's been waiting for it her whole life; for Maxxx to come back and fall in love with her and take her into showbiz. She's a bit surprised that the romance isn't quite landing, but she thinks Jourdan is an old flame. Once they're finally in the same space together, she wants to take Jourdan down!
Could you relate to Rose?
Yeah! That slight element of living in a fantasy world and having big dreams that feel inevitable - that's definitely the teenage me. The trouble is, she's in her twenties now, like me, and those fantasy worlds evaporate in the real world. I can still regress from time to time, in how I used to feel about boys and musicians and stuff. I've just put on a grown-up persona.
Are you a fan of Boy Town's music?
I've only heard their song about lactose-intolerant women, so I'm not sure... The music is just subtle enough to be something that could believably in the charts. I'm convinced Jason Derulo is a satire of the music industry - there's something about his music that's so misogynistic but incredibly catchy... So, I probably am a fan!
Have you had a Rose in your life, a hardcore fan?
Someone once set up an alternative Twitter account to mine and I got really panicked, until I realised it was a good friend trying to freak me out.
Caitlin Moran's work means so much to her fans, so when I played a young her in Raised By Wolves some of them saw me as being a new version of her - and I'm really not! - so there was a bit of that. But I've been quite grounded by my friends.
How close does the show feel to the showbiz reality?
Oh my God, so close, not just for the music industry but in terms of this lovable narcissist only interested in something that will make him deeply unhappy, which is his own fame. Everybody has met someone like that. I loved that making the show was the complete opposite and it took a huge amount of collaboration and team effort. I've made lifelong friends on this.