Law & Order star plays music producer and manager Don Wild. He says he grew his fingernails long especially for the part.
Why did you want to play Don Wild?
Number one, it was originally written that Don was 70 and impotent. I was naturally curious as to why my name would crop up for that!
I thought of him as a 26-year-old trapped in a 60-year-old's body, but he doesn't recognise that to be the case. I've seen that affectation before, and I've always been fascinated by people who strive to remain young in appearance and behaviour.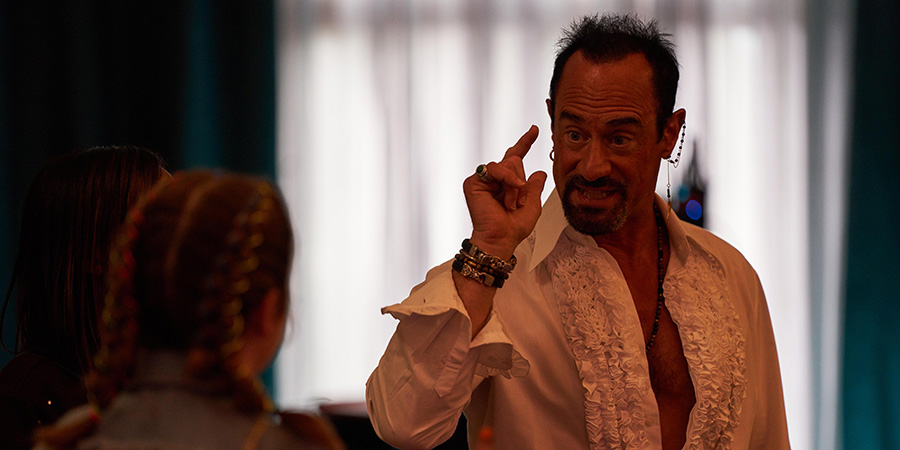 How close does Don feel to the showbiz reality?
I've seen those guys for real. I can think of a world leader right now walking around with a very bad tan to make him look better in his head. Tune into the Grammys and you see aspects of them, you see Vegas entertainers whose prime was decades ago, with jet-black moustaches or goatees. Don's behaviour is outrageous, but in that world it's not so far-fetched.
Are Don's best days behind him professionally, or is he still at the top?
In his mind, no - he's a music producer and manager second to Clive Davis, maybe! He believes the world revolves around him, he's the star maker and that makes him the star. In reality, the audience might have to make up their minds on that...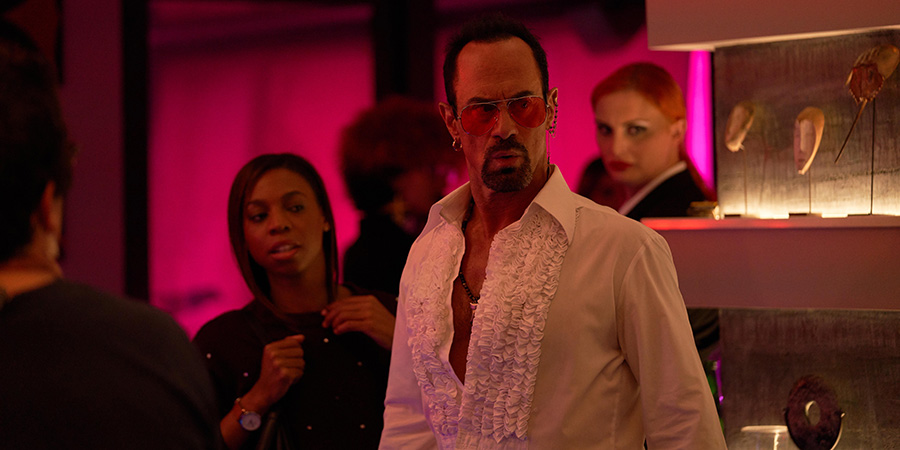 Was there anything in his wardrobe that you took home?
Oh my God, no - they were awesome costumes, but I've never worn stretchy jeans in my life. The kilt and ruffled shirt he wears at his party in Episode 2 is pretty amazing.
The worst thing was growing my fingernails out. It was one of the first things I thought of, that Don should have long, creepy fingernails. I grew them out three months without cutting, just filing. It was the hardest thing I've ever done. I had the clippers on standby as soon as we wrapped.
Were Boy Town a meal ticket for Don, or did he genuinely care about them?
He'd consider himself a nuts-and-bolts money guy, but there is a heart in Don and it shows itself at unexpected times. He's a little damaged himself, but he's okay with that. He thinks Maxxx now is a clown show but still sees something in the potential of Tamzin and Maxxx as a team. He thinks he could squeeze a buck out of them.
How would you describe Don's private life?
I think he's a bit whipped, his partner rules the roost. His kink is that he likes to watch.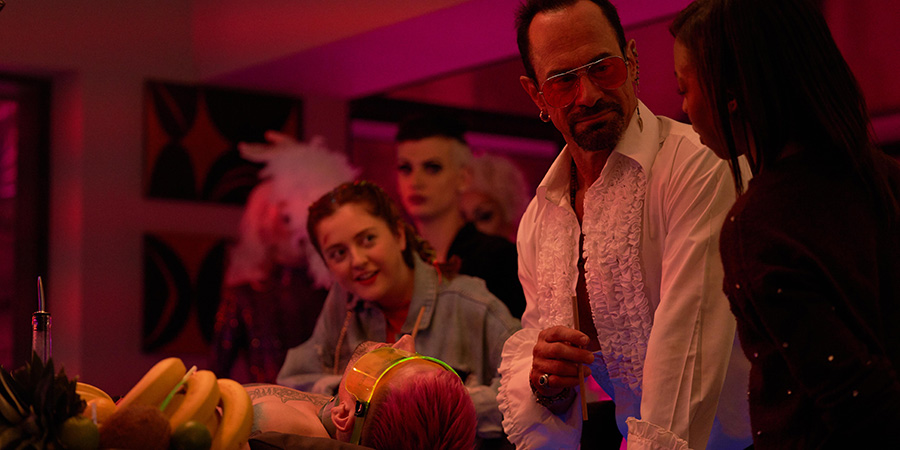 You mentioned the wild party in Episode 2. Have you ever attended anything like it?
I have but I'm not going to say anything further, other than that I wasn't wearing a kilt.
How much fun was Don to play?
It was like breathing pure oxygen, such a sense of freedom and experimentation. We were always encouraged to contribute ideas. Maybe 70 percent of the time mine were well received, just in terms of putting together his character, but O-T wrote all 6 scripts and they were rock solid. I just did little tweaks.
How was the experience of making your first UK television show?
I was threatening my wife with moving to London the other week! I love the city and the people. I'd heard that productions can be a little more bare bones in the UK, but that was great - it was going back to my roots and felt closer to real working. With that in mind, everyone is in it all together so it was like a communal acting troupe. I appreciated that spirit.
What's next?
I've no idea. Nothing's really struck me, but how do you follow Don Wild? I might as well retire!