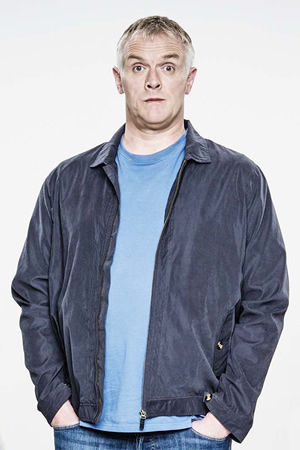 Greg Davies talks about creating Man Down...
Hi Greg. What is Man Down about?
I suppose it's about a man lost at sea. Well, I don't really want to say it's about a teacher, as it isn't really. He happens to be a teacher because I was a teacher but it's just about a silly man who's never quite managed to grow up, and his equally ridiculous friends too.
I suppose it's about somebody being trapped in a cycle. It's a story of a man whose own behaviour holds him back but he's incapable of changing.
The show is somewhat autobiographical?
I think it's hugely autobiographical, yes, because I was a very unhappy teacher for a long time - for 13 years, and I think I've mined that period, which felt like a directionless period. I mean, obviously I had an awful lot of fun and I hope that's where the fun in this show comes from; watching a man disintegrate a little bit, as a lot of us do in our lives at some point.
'Directionless' is the best way I can think to say it. That's what happens to this silly man who prioritises the wrong things, so it's autobiographical in the sense that I did have a period where I was all over the place really. I didn't really get very far but, you know, I had a lot of fun! Please don't think it's a depressing piece, it's not - it's just silly.
Did being a teacher in a former career make it easier inhabiting the role of Dan?
I think being a teacher helped me to play Dan because he's the sort of a person who's in the wrong job, and I had a lot of fun when I was teaching, but I was never... I wasn't a very organised or thorough teacher.
I think probably the kids who I taught will agree that we probably had quite a lot of fun but I'm not sure how much I really taught them. It's more about that he has to get through it. You'll see from the lessons in the show - we show one of his lessons every episode - and they're just terrible.
What did you used to teach?
Drama, so it's the same. The school that we filmed at was the school that I taught at. That was my classroom - the one that's in the show is my classroom.
How was that?
Weird! Like therapy.
A lot of dramas and comedies seem to revolve around schools and teachers. Why do you think that is?
I suppose because all human life is there in a school, I think that's probably why. School resonates with everyone - teachers resonate with everyone because we all did it, didn't we - we all went to school. It's one of the few things that unites everybody is that we were all there, so I guess that's why.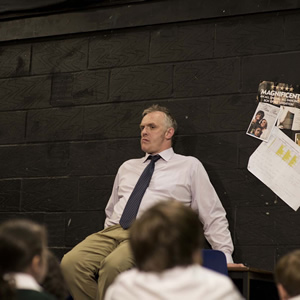 What was it like filming with the children? Did you find yourself reverting back to teacher mode?
A little bit, when they got tired I found myself cocking an eyebrow. Someone in the crew, when I told them all to be quiet and stand against a wall, went "you've still got it". But they were lovely kids, they will do great. They were far more focussed and mature than me during the shoot. Incredibly ambitious 11 year olds.
How many of them were there?
30 I think we had. Well, I used to teach 30 an hour when I was teaching, so it was easy peasy, and they were so willing, they were so up for it - it was great.
Some of my favourite scenes were in the school, but most of the sitcom isn't in the school. We have one scene with the kids, and then the rest of it is all set outside.
Do you like the character of Dan? Is that important when you're playing a role?
I do like him as he's so close to how I was - I mean he's not - he's a grossly exaggerated version and I think he's incredibly selfish and irritating, but I hope there's a fundamental kindness to him. He's just quite sad; he's quite a sad character really. In every episode he tried to change and he just picks the wrong way of doing it. In every episode he thinks 'my life will get better if I do this thing', but you know straight away when he picks it, no, that won't make it better.
I think in every episode from the get go, the audience are told this is going to end badly and it does! There are no secrets it will end badly so if you watch the first two minutes of one of our shows and think "oh god this doesn't look like it will end well..." no it will end horribly!
Does it feel different when you're filming a show that you've written and created?
Yes it feels far more frightening. It's so much more stressful. I sort of can't think about it for very long or my head will explode.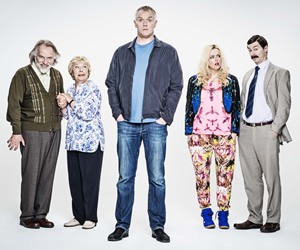 I thought it was enough to put my head above the parapet doing stand-up comedy 10 years ago, but when you're then offering up a series and saying 'this has come out of my brain, as well as me being the main character in it'... it's, er, and incredible act of ego mania really.
The other characters are so brilliant and they brought them to life so well, I hope that there's something for everyone in there.
How does the writing process work? Do you have a set routine?
I think it works for different people in different ways. For me, the way it works is I would stumble out of bed and stay in my pants all day in my flat, then I'd fall asleep, then I'd write for five minutes, then I would fall asleep again, then I would have to go outside, go for a walk then come back and have a massive meal, then fall asleep again, eat eight packets of biscuits and go to bed.
The next day I'll get up again, have a shower, play on video games, watch some telly, fall asleep on the sofa, write a bit more... are you getting the gist?
There's no pattern to it whatsoever. If you were in my flat when I was writing this... if people had put cameras up, I think anyone who watched half an hour of that footage would have put me into an institution.
I poured a kettle on the floor during the writing process. I made myself a cup of tea and I spilt a little thimble full on my trousers... I was so stressed that I couldn't break the back of this episode that I just emptied the whole kettle on the floor of my flat like a nutter! But I did feel better for it; although it was an act of madness, it released the pressure.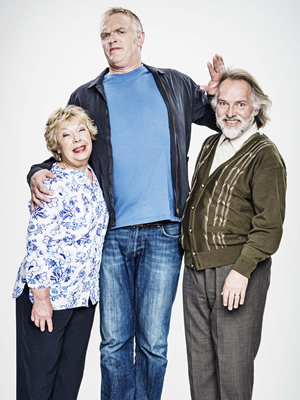 You cast Rik Mayall as your dad. Was that the easiest bit of casting in TV history?
It was easy in that I thought before I'd even started writing the sitcom 'wouldn't it be amazing if Rik Mayall was my dad because I've been compared to him for the last 10 years' and, of course, he's one of my comedy heroes. It was a fantasy casting in my head before I'd even started writing it and then to find out he was interested was beyond exciting.
I mean, I didn't used to look like him. It seems in the last 10 years I've morphed into him for some reason, so it seemed an obvious thing and then he came in to meet me and I knew straight away that we'd have a great time together, and we have.
Had you ever met or worked together before?
No, no. He gave me a hug and that was his opener. Just straight in with a hug it was lovely and I knew this is my dad even though, as I'm sure Twitter will go mental with pointing out, he's only 10 years older than me. Here's a pre-twitter message to you all: 'I fucking know, get over it - it's a comedy'.
Ha ha. 'Beef' has a key place in the show - where has this come from?
Ah yes. There's an episode where my character goes to a running club and there's this extraordinary running mentor, played by Ramon Tikaram, and he motivates all the runners. Ramon is brilliant playing the character.
When he's motivating people, just in the background of all those scenes we had someone screaming the word 'beef'. I don't know why. I wrote it in the script because it made me laugh and I can't tell you why it made me laugh, but because it made us laugh on the set with someone screaming beef... When you spend an intense amount of time together, as we all have as a crew, it just became an expression for everything. Whenever someone shouts 'beef' everyone will respond 'beef'.
When you were filming did you often find then that you would crack up and laugh a lot?
Yes. I thought it was really good fun to shoot - we had a brilliant, lovely crew. Sometimes it doesn't work, 35/40 people together trying to make something creative, what are the chances of it clicking, but it really did click with this group. I don't think you'd meet anyone who'd tell you we didn't have fun. There was a lot of laughing on set and I just hope that transfers to the screen.
Final question, what's next for you?
Well, I'm doing a stand-up tour, I'm sort of half way through a stand-up tour. I started it earlier in the year and then, thank god, Channel 4 said I could make this series so the tour was shelved until the Autumn... then I'll finish the tour off in the Autumn. I'm promoting this and I'm doing the rest of my tour then I'll do some deep breathing and have a break. I'm having the best time, I'll tell you that! Everyone has been so great on Man Down.