Philip Glenister and Lesley Sharp talk Living The Dream, their new Sky One comedy.
What's the show about?
Lesley: Living The Dream is about a couple who are at a point in their life where they could settle with where they've got to and how that'll play out for the rest of their lives in the UK, or they can rip all of that up and go and have an adventure. They're a very positive, warm, engaging, in-love, middle aged couple, and take their two kids to Florida to live the dream, start a business, have a different life.
It's not entirely the dream they hoped for though?
Philip: When they arrive they find a bit of a mess! Executive producer Luke Alkin and writer Mick Ford went out and did quite a bit of research. There's quite a lot of red tape and barriers if you do go and try to start up a business over there, which we'll see as the series progresses. I don't know whether it's different in different states, but it's not all a bed of roses - if you don't hit your targets you can end up pretty broke and downtrodden. It's tough. Really not easy.
How long were you there filming for?
Lesley: We started at the end of April and went through until the end of June. There was definitely a notable increase in the heat whilst we were there.
Philip: It's the humidity more than anything, especially at the RV park. On certain days when you have no breeze - it's pretty stifling. And the mosquitoes as well! All the bugs...
Lesley: You film up north in England, even in July, you finish a scene and you're running inside to a radiator! Over there, you finish a scene and you run into a room and stand by the air conditioning. It was bizarre, how you needed to have cold air blasted over you just to stay sane.
And also, drinking. Just to stop yourself getting dehydrated. You do get dehydrated very quickly and it can make you very ill.
Did you have any culture-clash experiences as Brits out there?
Philip: I don't think so. The thing is, with everything being so global now... Well, I was invited in for drinks with my neighbours where I was staying, about two doors down. They just proceeded to go through the list of British TV shows that they were watching. Call The Midwife, Downton Abbey...
Lesley: And we watch all sorts of American stuff here.
Savannah, Georgia, where we filmed, is a city but the centre is only about 2 miles square, so you can walk everywhere. It's a really old city, built on a grid system, but it's tiny grids broken up by these beautiful squares. Very gothic, lots of dark grey, gas lamps - it's beautiful.
Philip: The most haunted city in America, apparently.
Lesley: There's just one main shopping street, and it's like being in a community, you know? There was a great yoga studio, lovely coffee shops, fantastic bakeries, some restaurants... It was amazing.
Philip: There's quite a famous college of art and design there as well, so it's quite artistic.
Lesley: It was almost like a village. If you live in London it's very much a city, but it was very charming and authentic, warm and lovely.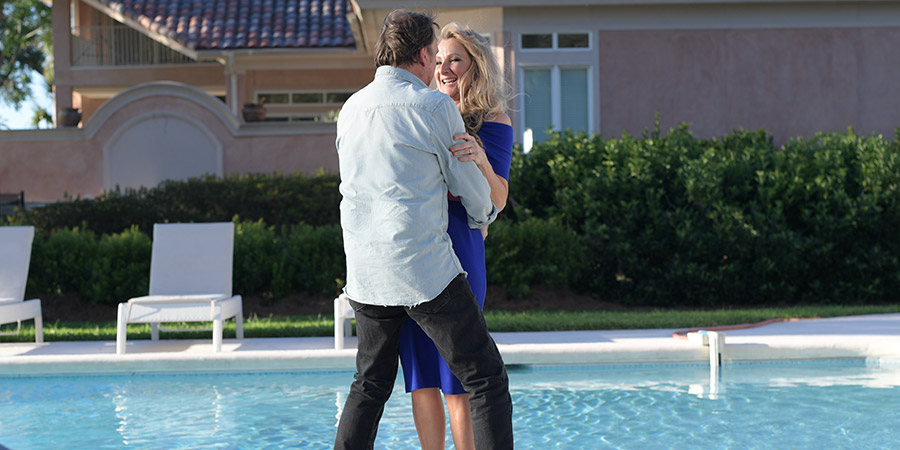 What did you do in your down-time?
Lesley: I watched The Real Housewives of New York! And I just needed to find somewhere with a swimming pool, because it was so hot.
Philip: There's not many swimming pools in Georgia!
Lesley: No. It's not like Florida.
Philip: Where we filmed, the house, it's about 35 minutes outside of Savannah. They spent a long time looking for a house with a pool.
Lesley: They had to find a house with a pool of course for Phil's skinny-dipping.
Philip: Yep, it's in my contract now. I've got to get my clothes off... Being a global sex symbol now, it's a prerequisite!
What appealed to you about these roles, your two characters?
Lesley: For me personally, I thought it was fantastic to see these two middle-aged characters, instead of sniping and bitching and loathing each other, wanting to get away from each other and talking about how miserable their lives are because they're heading towards death - actually, they're two people who, and I think this is quite common for people over 40, still feel they've got a bit of gas in their tank.
They're up, they're energetic, they're doing stuff, they're solving problems and having a go. They're not just sinking into some muddy version of middle age that they're supposed to have.
Philip: Not sitting, waiting for the doorbell to ring and it's the grim reaper.
Lesley: It's great to be part of a show that's representing a family intent on having an adventure rather than settling for what they've managed to get so far.
Philip: And it's nice to do a show like this as well, rather than just something that's dark.
Philip, your nemesis in the show, Troy, is he really that big?
Philip: Yes! 6ft, 10! He's a pussycat though. A big lovable bear.
Lesley: He used to be a wrestler!
Philip: His legs are knackered now though, his knees. All the dropping to the canvas. And his shoulder, all those years of wrestling.
Everyone's great. I think it's really well cast. Everyone's got their own eccentricities but you never feel they're overplaying it or it's too caricatured or clichéd. Having seen some people over there in real life, if anything we've toned it down!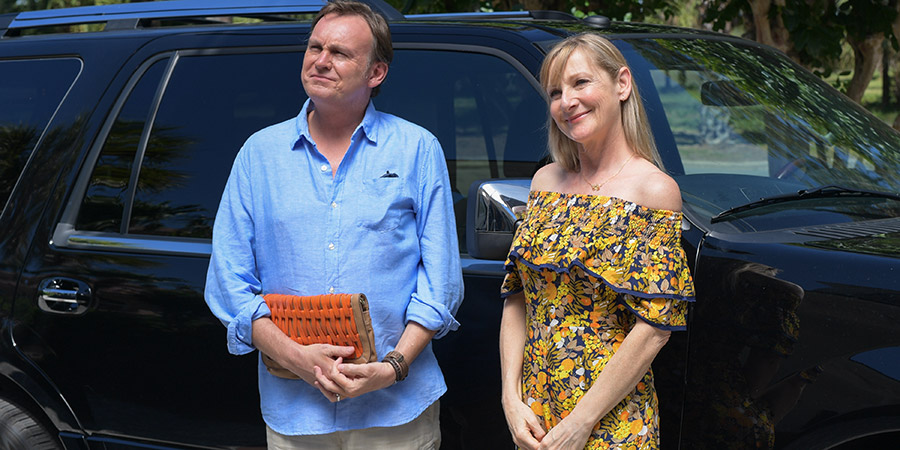 Have you a favourite episode or storyline in the series?
Philip: Yes, Episode 2 actually, where we go to church. Rosie, who plays our daughter Tina - her character falls for this boy and his father is the mayor of Kissimmee, who's great - very, very funny - and they're very religious. Tina tells them we're religious as well, so we're invited to their evangelical church.
Lesley: They've got their hymns on a loop. Prompted up on a screen.
Philip: Yeah, then as we're leaving the church they stop and say "Look, you've sung all of our hymns, why don't we sing one of yours?" So we're forced into a version of All Things Bright and Beautiful, which is lots of fun.