A new offering from Little Britain will be on televisions this Friday, as David Walliams is set to reprise his role as Emily Howard for a special Sport Relief sketch. The 'rubbish transvestite' character will appear alongside Stoke City striker Peter Crouch, stand-up Micky Flanagan and the England women's football team (The Lionesses) in a newly written topical sketch.
Although specific details in relation to what the sketch will be about remain under wraps at the time of writing, the BBC tease that it will feature "Peter Crouch as you've never seen him before!".
The football star himself has given away a little clue on Twitter though, posting a picture from the sketch alongside the words "O no" and an icon of a monkey covering his eyes.
This will not be the first time that a Little Britain character has appeared in a charity sketch since the show officially finished. You may remember that, for Comic Relief 2015, Walliams appeared alongside Catherine Tate in a sketch centred around carer Lou looking after Professor Stephen Hawking - it was one of the most watched sketches of that night.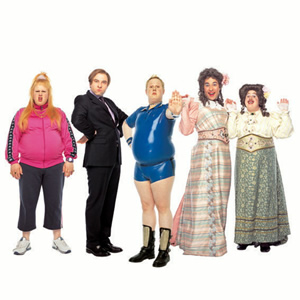 The fact that characters from the sketch show can still attract big audiences shows how far the format has come since David Walliams and Matt Lucas launched it on Radio 4 in 2000. Back then, the format attracted almost no press, however in the intervening sixteen years Little Britain has become one of Britain's biggest ever comedy successes. It may have launched quietly on the wireless, but by the time it was on BBC One, 9.5 million of us were watching it each week.
Many of the characters are independently stars now, even when not played by the creators. For example, the likes of Vicky Pollard, Lou and Andy, and Emily can be found starring in an online casino on Casino.com. Features in the game include Marjorie Dawes' Fat Fighters bonus and Dafydd's Big Gay bonus. Casino.com has even got Tom Baker delivering a custom-made voiceover.
Matt Lucas has spoken about how he'd like to move on to new projects (Pompidou being his most recent effort) rather than return to Little Britain, but with the popularity of the characters showing no signs of diminishing, as long as David Walliams is still OK to get back into costume again, we suspect we're likely to see more new things from the Little Britain characters yet!
The new 'Little Britain' sketch will be on BBC One on Friday 18th March 2016 as part of the Sport Relief telethon. No exact timings are yet known.
Published: Thursday 17th March 2016