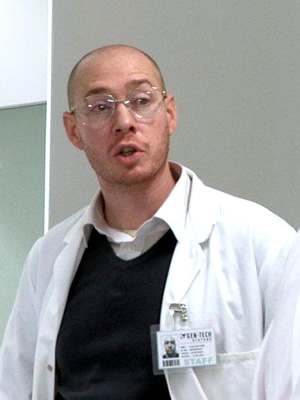 We chat to Lee Kern about his prank show...
Hi Lee. Could we start by asking you about your background. You started in stand-up?
My background is actually in documentary filmmaking. Stand-up and presenting were diversifications of that. Making a prank show: a diversification of those diversifications.
I've kind of taken whatever creative opportunities have been given to me in the hope that they'll generally meander to where I want to be. Ultimately I see myself as a writer and an illustrator. And Lee Kern.
So what is Celebrity Bedlam about?
Celebrity Bedlam is a prank show on celebs. However, what we pull off are huge, immersive stunts that are audacious, ambitious and very silly. In Episode 1 we convince celebs that not only do I make human clones - but that I've cloned them.
It's a ridiculous moment. Throughout the series we have an endless succession of these insane stunts. From believing they're meeting a rare tribe evacuated from their homeland and now living in a children's zoo in Cheshunt - to putting on a fashion show in which celebs model clothes they believe to be made from human leather - the series is a combination of laughter, disbelief and having to watch from between your fingers. I can't believe some of the stuff we're gonna have on TV.
Sounds great! Would it be fair to say the format shares some characteristics with the likes of Brass Eye and Trigger Happy TV?
There's a big tradition of these sorts of shows on TV - whether it be the pranking celebrities or members of the public. Anyone who watches Celebrity Bedlam without prejudice will see we've contributed something new to the genre. No-one has aimed for the kind of huge, immersive stunts we've achieved in this series - which become a kind of immersive theatre meets comedy.
Essentially they are like improv sessions with someone who doesn't know they're involved in an improv session. A more informed reading of the overall series would flag up the work of Marc Wootton as a reference point. His shows: My New Best Friend, Shirley Ghostman and La La Land were a yardstick of the kind of commitment you need as a performer to be able to engage with someone for an extended period of time - how to become an embedded, undercover comedian. And let's be real for a moment: all of these sorts of prank show have overlapped and developed aspects from each other.
A lot of people won't like hearing this: but Brass Eye and Ali G weren't the trailblazers - Noel Edmonds was duping celebs with Mr Blobby in Crinkley Bottom years before them. The fanboys might not like that, but that's a fact. Yes the tone is different - it's not "cool" - but the conceit is there. Mr Blobby was rinsing it before any of us schmucks came along. It's just such a shame he died of a heroin overdose with a prostitute on his penis.
Ha ha, and good answer by the way. How did you convince the celebrities to take part?
Different celebs and different stunts required different levels of effort to achieve the required goal. Anyone who thinks convincing someone they've been cloned - celebrity or not - is like shooting fish in a barrel needs to have their head examined. Just to give you an idea of how things worked from a performance angle: I was having to feel people out in conversation - see how they picked up on things - plant linguistic seeds and ideas that I would return to later in the conversation and water a little more, create connections in their mind, so that when I revealed something of utter nonsense it seemed entirely plausible and rational. Yes, of course I've been invited by the UN to answer questions on my favourite colour...
Was the human clones stunt your favourite set-up?
That's the main stunt running through Episode 1 and it's certainly a spell-binding moment. You can see a clip of it here:
The truth is - whilst editing the show - every stunt we worked on became my new favourite set up. I think the stunt that I had to struggle hardest not to die laughing during was the colonic irrigation stunt involving Maria Fowler from The Only Way Is Essex. This became a scene that I can only describe as 'Frank Spencer - but with shit'.
Convincing a celebrity I was a dog by sticking some fur and a fake plastic nose to my face was also a ridiculous achievement. I look like a giant monkey. Yet they came into the dog kennel where I was sitting and stroked me whilst I licked their hand. They discussed adopting me with the kennel owner. Ridiculous.
You mention the Maria Fowler colonic irrigation scene. Is it hard to keep a straight face when you're saying such ludicrous things to people and they're believing it?
Of course. But if I laugh I am the idiot that ruins a days' shoot, wastes thousands of pounds and has nothing to go in his own show. Unless my goal was to make a prank show against myself where I get given an opportunity and then try to fuck it up - then it would be a stupid thing to do. That said, there are times you can see I'm trying not to crack a smile. Fortunately the celeb is too distracted by seeing a tarantula with a human penis... or too busy looking at the road whilst going for a spin with the world's only blind racing driver.
Did any of the set-ups go wrong?
Apparently we had an incredible hit rate for this show. In these sorts of shows the success rate is normally 50% I'm told. In our entire series we had just one stunt that didn't work - and that was entirely our fault due to a lack of preparation brought on by the gruelling schedule. If we had a second bite we could pull off that stunt - which is why I'm not gonna tell you what it was. In all the hours and hours of filming we pulled literally everything off. From convincing celebs they were meeting a goat that could cure people of piles, to having a celeb believing that Native Americans were performing badger culls in Rickmansworth. We're talking about a celeb seeing a Native American in war dress apparently scalping a badger - in Rickmansworth. That should not work - but we pulled it off...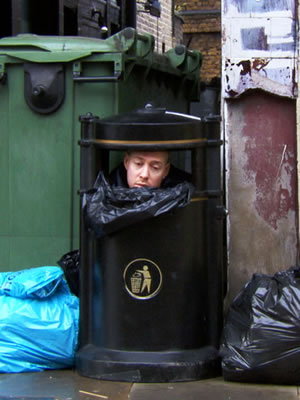 Wow, yeah, that is a great hit rate. Based on your activities within the show, we'd guess you're not particularly a fan of the idea of 'celebrity'?
It was always my goal to create stupid scenarios that play with reality and put stupid imagery into the world that transcend the specificity of who is being duped. The stunts we see in the show would be funny if they were enacted on members of the public. The fact that it involves celebrities just adds another layer that people seem to enjoy.
It's possible if this show becomes massive you could become a 'celebrity' yourself?
I would have no qualms about my work being known and talked about. What's the shame in that? I've stuck to my guns and stayed true to my artistic voice for years. I've got a back catalogue I'm proud of. So if I get any attention now or in the future I wouldn't see that as awkward. I would see it as vindication and a success; that I was right not to compromise. Anyway, it won't happen - I am a pasty, bald man from Edgware and it is difficult to market a bald pasty man who hates most things to the kind of audiences TV makes its money from.
Also, let's take stock for a moment - I've made a TV show where we get a celeb to dress up as the monkey that gave the world AIDS and then apologise to mankind. This is not a timeless clip that I will ever be talking about with Phillip Schofield on his couch. I'm unlikely to be on Loose Women talking about this show. Cadbury's aren't going to want to have adverts before that. Heat magazine won't want an interview with a guy who seemingly covered himself in human excrement alongside an article about what a great dad Peter Andre is. Do you feel what I'm saying here?
Fair point. As you're particularly targeting celebrities rather than just members of the public it seems the format is vulnerable, in regards to doing more. I.e. celebs will be keeping an eye out for you now. Do you think it would be possible to make a second series?
Of course. We convinced people they've been cloned - we can overcome the conundrum of how to make this sort of show again if my face was to become more recognisable. At the same time, I never grew up wanting to make a prank show - this was just the creative opportunity given to me at this point in time. The producers and directors I've known over the years are aware there is more to me than this sort of programme, and it would be good to get the chance to show that. For the time being though, let's just hope that people see Celebrity Bedlam and that those who get it, get behind it. Looking back I still can't believe some of the things we're actually going to have on British TV screens. I literally can't wait for people to meet "Puggles" in Episode 5. He's your friend and he loves TV...
Cheers Lee. We look forward to that!
Celebrity Bedlam is on E4 on Wednesdays at 10pm, and repeated on Channel 4 on Fridays at 11:40pm.