Series 1, Episode 2
Irene shows off her new man to Vera.
Full synopsis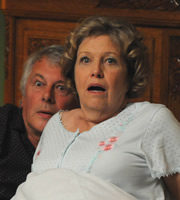 While Vera battles with builders, Irene is being romanced. Bill - a widower - has been paying her 'attention' and she's enjoying every minute. Feeling neglected and a tad jealous, Vera nonetheless agrees to invite the two of them to lunch, and Irene prepares to show off her dapper new lothario. Things go much too well. Bill and Vera get on famously, and Irene is furious. Her thank you letter is so cheerful it hurts. Vera is oblivious to the undercurrent, and the two embark on an exchange about Christmas - not far away now.
Irene doesn't hear from Bill over the festive season, but he drops in on Vera. They had a very jolly time and took a trip up to look at the nuclear power plant, where he suggested that it might be fun for the three of them to go away for a weekend together.
This turns out to be a disaster. The two ladies don't write to one another for two years. Did Bill really mean to book them all into the bridal suite? What was Vera doing in bed with him when Irene turned up? Why did Irene storm off? And anyway, he's married a much younger woman now. Both ladies are feeling lonely. Irene's daughter is thinking of moving to Australia. Vera's daughter is truculent and secretive about her on/off 'relationship', and her son Howard is always off with his friend Anthony.
Maybe the two ladies could get back together again. Give it another go. After all - who else have they got?
Broadcast details
Date

Tuesday 10th February 2009

Time

10pm

Channel

Length

30 minutes
Repeats
Wednesday 11th February 2009 at 9:00pm on ITV3
Sunday 15th February 2009 at 10:30pm on ITV3
Sunday 14th June 2009 at 10:00pm on ITV
Wednesday 3rd March 2010 at 11:35pm on ITV3
Cast & crew