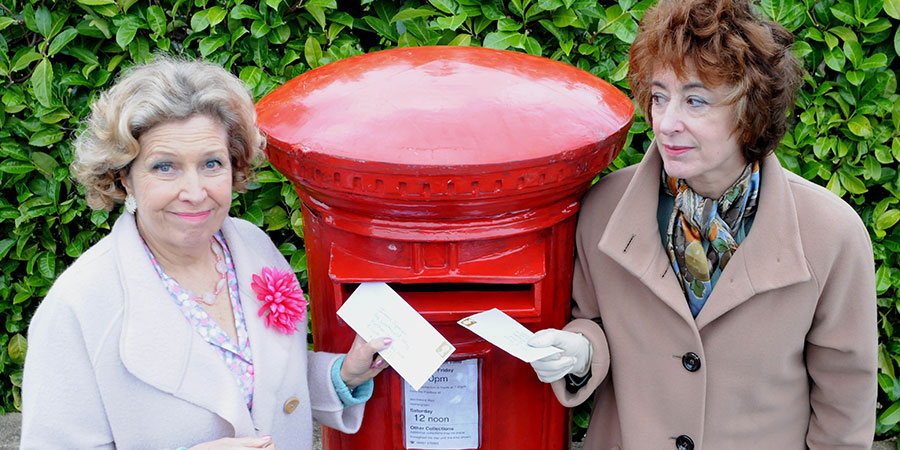 Another comedy also has this name.
Genres

Comedy Drama, Sitcom

Broadcast

Channel

Episodes

Starring

Maureen Lipman, Anne Reid, Morag Siller, Daniel Crowder, Paul Chahidi, Natasha Redhead, Lee Boardman, Jonathan Coy and others

Writers

Director

Producers
Gentle comedy drama about two very different widows who forge a friendship through letters. Based on the Radio 4 series of the same name.
Irene and Vera reveal their adventures to one another through letters, with each of them trying to outdo the other.
The two ladies first meet at Vera's daughter's wedding and begin a correspondence that, beneath a veneer of civility, hides a constant battle of one-upmanship as they regale each other with stories of blissful holidays, delicious recipes and grateful grandchildren.
In reality, both are lonely, taken for granted by their families and their correspondence is a lifeline for them: for all the unspoken animosity, they need each other.
In the first series Vera and Irene's friendship saw them through a variety of experiences, including a spot of man trouble, Irene's episode of amnesia, a stint behind bars on a prison ship for the pair of them, the revelation of Vera's son Howie's sexuality, and the threat of Vera's home being destroyed to make way for a bypass.
The second series picks up five years after Irene and Vera's doomed vacation. Having not spoken to each other in all that time, the erstwhile buddies are reunited at the funeral of Irene's one-time gentleman caller Bill, the man who almost ruined their fledgling friendship by subsequently flirting with Vera before dumping them both.
The ladies soon end up in some rather extreme situations. Irene finds herself living rough in the Australian outback after being rescued from a asylum by Vera's daughter Karen and trailer park thug Damon. Meanwhile Vera battles with social services for custody of her granddaughter Sabrina.
Ladies of Letters blends the comedic elements of the ladies' relationship with a hint of melancholy as we learn how the duo are both taken for granted by their families and loved ones. The series follow the ups and downs of their long-distance relationship as it occasionally becomes slightly fractious when one or other of them engages in too much one-upmanship.
Production company

Laugh track

None
Broadcast details
First broadcast

Tuesday 3rd February 2009 on ITV3 at 10pm

Last new broadcast

Tuesday 16th November 2010 on ITV3 at 10pm

Length of episodes

30 minutes

Last repeat

Friday 27th August 2021 at 10:00pm
Website links