Brendan Allen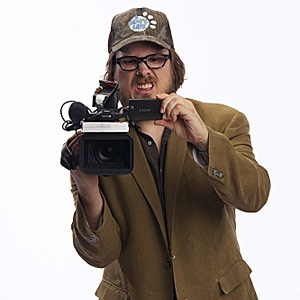 Brendan is an aspiring documentary maker who desperately wants to be as hip as Morgan Spurlock and as rich as Michael Moore, but has all the talent of Homer Simpson.
He dreams of making a film that changes the world, (a la Super Size Me or The Inconvenient Truth) so he can impress his estranged son and can prove to all the naysayers that he's not a loser.
Brendan is in the throes of a messy divorce from Susie, the mother of his 5-year old son Jack who he desperately wants to win back by proving he is successful. Brendan met Susie at a party and she was seduced by his bullshit. A cocaine-fueled fling unexpectedly produced little Jack and under pressure from both of their upper-middle-class parents to 'do the right thing,' they got married. Needless to say, Brendan repeatedly proved that he was useless as both a father and a husband.
Brendan has stalled the divorce as best he can, but time is running out. In just 30 days, the divorce will be finalised and a custody hearing will decide whether or not he is fit to look after Jack.
With access to his son on the line, Brendan has decided to man up by emptying the joint account he and Susie shared for Jack's school fees and spending the money on an ill-conceived jaunt to Los Angeles.
Having already lied in a pre-court hearing about the amazing film he has yet to make, he feels he has no choice but to make good on his outlandish boast. Brendan has come to Hollywood because he knows that's where the big money is and he's convinced that someone there will fund his half-formed documentary ideas.
Shirley Ghostman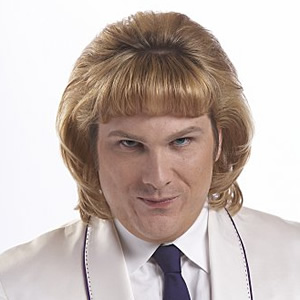 Shirley is a professional psychic with a unique talent - he can communicate with dead celebrities.
A supernatural encounter as a child showed Shirley his future - he would become a psychic medium and channel the spirits of dead famous people. Ashamed about his flamboyant son, Shirley's old-fashioned dad took his own life.
Spurred on by the need to honour his father's memory, Shirley worked hard to become one of Britain's most famous psychic mediums. Last year in the UK, a young girl was kidnapped and Shirley couldn't resist jumping on the bandwagon by offering his powers to assist in her rescue. Unfortunately, Shirley's participation created more distress than support and his credibility went down the drain.
With his UK career in freefall, Shirley decides to change his name and image and move to LA, where he hopes to rise from the ashes and ultimately show the British public that they were wrong to turn against him. Broke and on the run, Shirley will succeed in America by any means necessary.
Gary Garner
Gary is a charismatic East-London cab driver who is determined to launch a new career in Hollywood as an actor. He wants to follow in the footsteps of his action star heroes Jason Statham and Vinnie Jones.
With his recently deceased mother's ashes in one hand and his inheritance in the other, Gary is putting his blind faith in the so called 'experts' of Hollywood to make his dreams come true. Gary only has enough money to last him six weeks but thinks that's plenty of time to learn method acting, land an agent and a starring role in a movie.
Buoyed by his mates from the pub back home cheering him on, Gary thinks Hollywood is his for the taking and remains blissfully unaware just how unrealistic the goal is that he has set for himself.
With no father or siblings, Gary was left to take care of his mother at the end of her life and her dying wish was to have her ashes scattered in Hollywood - the place she really wanted to make it as an actress and where she believed Gary could make it, too. It was with this blind belief and determination to not let his dear old mum down that motivated Gary to quit his job and embark on a journey to the city where dreams come true.