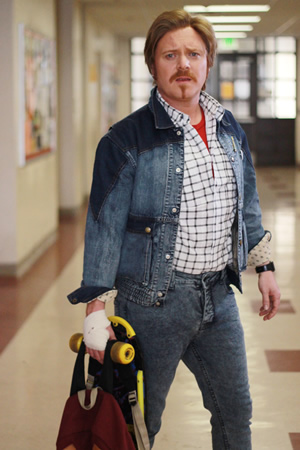 The 21st October 2015 is the day Marty McFly and Dr Emmett Brown set their time machine to in hit movie Back to the Future Part II. To mark this day, ITV2 has organised an evening of programming, with a new special hosted by Keith Lemon the centrepiece of the night. The character explains more here...
Hi Keith. Can you tell us a bit about the show - how did it come about, what attracted you to making it and where did you go for filming?
For years I was saying to Talkback (the production company I make Juice, Keyhole and me Sketch Show with) that on 2015 it's 30 years since Back T'Future came out! "We should do a celebratory show about it!"
Everyone that knows me knows I'm a massive BTTF fan. The Juice team bought me a hover board! Don't hover though, it's just a prop; I've got loads of Back T' Future stuff. So every year it got closer t' 2015 I kept saying "are we gonna do owt?"...
Then one day, whilst in a meeting about Keyhole, Leon the Exec Producer said "ah yeah ITV are up for doing that Back To The Future show"! I was beyond excited. A few weeks later I was skating around Hill Valley square chatting to co-creator Bob Gale, living the dream. This isn't just a presenting gig that was offered to me, this is something that I'm proper passionate about that I nagged ITV to let me do! I teared up twice whilst we were filming cos I was so overwhelmed!
Were you star struck when meeting any of the cast and crew?
I meet a lot of people doing what I do, but this was different. This was like meeting people I've loved since me childhood. I now regularly speak t' Claudia Wells who played Marty McFly's girlfriend Jennifer Parker, it's crazy! So yes, I guess I was star struck.
I email Bob Gale now who wrote the film. I would never imagined this when I was a kid. I knew one day I would have a little fling with Holly Willoughby cos I could see she had a twinkle in her eye for me, and I always knew I'd get proper drunk with Gino Sheffield D'Acampo cos we clicked straight away, even though I can't tell what he's saying. By the way, Gino is playing Doc Brown in't show and he's brilliant!
But yes, I was a bit star struck even just visiting the locations! Star struck at buildings???!!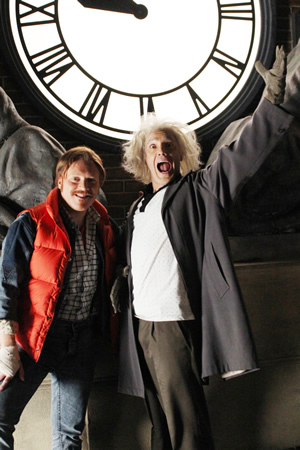 What were you highlights making the show?
The highlights were meeting Bob and the cast and recreating all t' classic scenes. I was like a little boy in a toy shop. Playing out with me mates: Paddy McGuinness as Biff, Gino as Doc, Ashley Roberts as Lorraine and me as the main guy Marty Mcfly!
It's been so exciting. I can't believe ITV2 are having a BTTF night. If you like me and BTTF, it's gonna be a fantastic night of telly. If you don't like BTTF or me, it's gonna be t' worst night of telly ever.
So big fanks t' ITV for letting me indulge in me dreams. It's a very self-indulgent show. Me just meeting people and locations that feature in a film that's been part of me life way back when the only woman in me life was me mum!
I can still remember the smell of popcorn and the pissy floor of the cinema I first saw it in. We went t' see Santa Claus: The Movie but it's was full so me mum said "why don't we see that future film it's got skateboards in it, ya like skateboards don't ya?"... I use t' skateboard. And that was it, I've been a fan ever since. All the clobber I wear in t' show is actually mine!
As you touch on, there are lots of famous faces starring in your special?
Yeah. Paddy, Gino, Ashley, McBusted... there's lots of talking heads like they have in these kind of shows from a lot of lovely people that are fans of t' film. Jonathan Ross, Davina, Johnny Vegas... Holly and Fearne, of course.
Lots of people were really kind helping me make this. I've never made a documentary before so it was a different avenue for me. I'd like t' make another one. About Teen Wolf perhaps or Ghostbusters or ET or Gremlins. I sound like me mum, but they don't make 'em like they use to do they!
Tell us about your history with Back To The Future films - what was your favourite thing about the films when you first saw them?
I always were a big fan of Michael J Fox. As a kid I always thought he was cool, like Phillip Schofield. Cool but not arrogant. And Funny! Michael J Fox has great comic timing I fink. But as a film it's a great concept. Imagine going t' school with your dad! Me going to school with Billy Ocean! He's me dad ya know. I wonder if we'd have been mates. We are now. Love you dad! Caribbean Queen is a tune!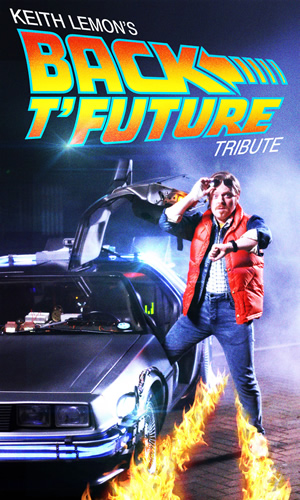 What did you think 2015 would be like when you were younger, and has it met your expectations?
I thought it was go as be like it is in the film, yeah of course! And a lot of fings they predicted have happened! Telly's on the wall! The hover board has now been invented although you can only hover on a copper floor. Hey, we have those smart balancing wheel fings though that Lilly Allen had been spotted riding! They're like hover boards.
Has the future met my expectations? I don't know yet as we're still in't present. But I'm very happy! I only worry about the past two weeks behind me and the next two weeks ahead of me. But I'm very happy! Always! I always have the best times!
If you could go back or forward to any point, where would it be and why?
1991, Wembley Stadium, when I was watching INXS. I now own Michael Hutchence's actual coat, sweater and boots that he wore at that gig... so does that mean he would be singing in just his socks and underpants?
What's next in your diary?
What today? Filming Celebrity Juice, but I'm also busy filming t' second series of The Keith Lemon Sketch Show. It's a lot of work but great to go home with a sore throat from laughing! Oh and me second kids book will be out this month The Beaver and the Elephant Number Two.
Anyway, I'm gonna make like a tree and and get outta here - quote from Biff from Back t' a Future. Best film ever!
Keith Lemon's Back T'Future Tribute is on Wednesday 21st October at 9pm on ITV2.