She was one of the snobbiest characters in British television history but it's 30 years today since we first met Hyacinth Bucket in Keeping Up Appearances.
The programme, created by Roy Clarke, first appeared on our screens on 29th October 1990, eventually conjuring up 44 episodes over its five series: the characters and catchphrases it left behind have made it a sitcom we know and love.
Each episode followed a similar formula. Hyacinth, played by the wonderful Patricia Routledge, would usually tow long-suffering husband Richard (Clive Swift) along to an event or place far pricier than they could afford, only to make everyone present painfully aware of her upper-class activities and interests. From insisting that her name be pronounced bouquet ("Buckét" rather than "Bucket" - "my husband is of French extraction"), to inviting them to her "candlelight suppers with riparian entertainments", it was a surprise that nobody ever snapped at her.
Hyacinth's upper-class pretensions were regularly punctured by the appearance of her resolutely lower-middle-class friends and working-class family, much to her horror, embarrassment - and everyone else's amusement. Be it her sister Violet ("She's the one with the Mercedes, swimming pool, and room for a pony.") and cross-dressing husband Bruce, or coffee-spilling neighbour Elizabeth (Josephine Tewson) with her ever-impatient brother Emmett (David Griffin), the supporting cast of Keeping Up Appearances characters brought a sense of safety and rootedness to each episode of the sitcom.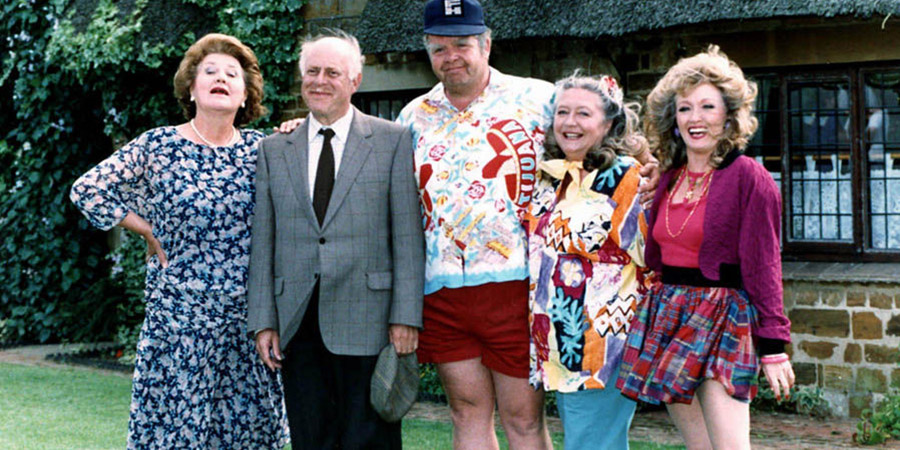 But the most famous and likeable of all have to be the trio that Hyacinth was most ashamed of: sisters Rose (Shirley Stelfox/Mary Millar) and Daisy (Judy Cornwell), and the latter's gloriously slobbish husband Onslow (Geoffrey Hughes).
Rose liked eloping with married men; Daisy liked erotic novels; and Onslow liked gambling, alcohol and rarely wore anything over a string vest - all of which were far from Hyacinth's realm of acceptability. If they weren't chasing after Hyacinth's war-veteran, woman-obsessed, beloved delinquent 'Daddy', they were turning up wherever Hyacinth didn't want them to: cruise ships, golf courses, country cottages; they were only ever an eye-roll away.
Patricia Routledge brought a sense of Frank Spencer (Some Mothers Do 'Ave 'Em) to the character. In one particular episode, to save another dose of embarrassment provided by her family, Hyacinth hides under a sheet of tarpaulin on the back of a lorry, only for it to drive away leaving her clinging on for dear life through the streets.
Although the programme enjoyed a running theme of everybody being fed up of Hyacinth and Hyacinth being fed up of everybody else, there was occasional balance of love and adoration to illustrate why the seemingly varied group stayed in contact at all. Hyacinth's husband Richard, played by the late Clive Swift clearly loved his wife, as shown by his increased worry when Hyacinth is injured in the final regular series episode The Pageant. Similarly, despite being mortified that Onslow & Daisy have won tickets for the QE2 in Sea Fever, Hyacinth puts her pride and snobbery alike to one side and ends the episode by dancing through the ship's ballroom with her brother-in-law.
Whilst the series only ended when it did due to Routledge's desire to move on to other roles, it's unlikely that we'll see any new episodes of Keeping Up Appearances as many of its stars have since passed away. A 2016 revisit to the character gave us prequel Young Hyacinth] starring Kerry Howard, but Clive Swift (Richard), Geoffrey Hughes (Onslow), Shirley Stelfox, Mary Millar (Rose) and George Webb (Daddy) all brought fun and life to a set of iconic characters without whom it just wouldn't be the same.
But with nostalgia, we can look back and celebrate 30 years of a sitcom great, and the BBC's most successful international export: Keeping Up Appearances.
---
This is the complete series of Keeping Up Appearances, where you can witness Hyacinth Bucket (pronounced Bouquet, don't you know), and her long suffering Richard, impressing and distressing their family and neighbours.
Laugh along when "Daddy" chases after milk ladies naked on his bike, Richard fights daily against early retirement, and sister Daisy and brother-in-law Onslow cause our house proud Mrs Bucket much embarrassment and humiliation.
Featuring every episode of the entire series in an 8 disc box set, this hit 1990s BBC comedy set includes the Christmas Specials. So come in for a Darjeeling tea, and visit our heroine Hyacinth Bucket as she fights the ever declining moral fabric of Britain... just whatever you do... don't brush against her walls.
First released: Monday 23rd September 2013
Buy and sell old and new items
Search for this product on eBay
It looks like you're in the US? Fear not! Almost everything can still be ordered.
Amazon UK
deliver internationally,
Amazon.com
carries many items separately, or you can look out for US/Canadian flags on our product listings for direct links.
If ordering from a UK store, please note that you are in Region 1 (DVD)/Region A (Blu-ray), whilst the UK is in Region 2/B, respectively. This means that many - but by no means all - may fail to play. Look for products marked "Region free", "All regions", "Region 0" or "Multi-region". Blu-rays may also be marked "Region A/B/C", "Region free", or variations thereof. You may also check whether your DVD/Blu-ray player supports multi-region playback (also referred to as "region free"), or whether it can be set to do so. There should, of course, be no problems with books, CDs, or other physical items.
More advice & help on importing
Published: Thursday 29th October 2020