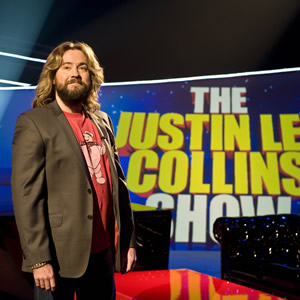 Justin Lee Collins aka JLC makes his debut on ITV2 this spring, hosting his very own chat show. The Justin Lee Collins Show will house interviews and challenges with big name celebrities, games with the studio audience and a bit of karaoke thrown in for good measure. For ten weeks Justin promises to inject an hour of pure, unadulterated fun into ITV2 living rooms. So tune in or prepare to miss out on the party.
Each show will begin with Justin and his house band serenading the studio audience and the viewers at home, with one of his favourite songs. And at the end of the show he will surprise a fan by gate crashing their private karaoke party. Whether they are singing at home, at an office party or with the girls in town, Justin will challenge them to a live duet via video link from the studio - but will the shocked contestant be willing to sing with Justin, before the nation?
JLC is a huge fan of all things retro. Each week, to challenge his expertise, he will be presented with "A Blast from the Past." A series of mystery guests will be introduced and Justin will have 60 seconds to ask "yes" or "no" questions. Will JLC guess the correct identity of these heroes of yesteryear before his time is up?
Each week will see a celebrity challenge where JLC sets one of his guests a task. Will the star in question learn to cut hair within 30 minutes or will they get to know an audience member well enough to become their new best friend? The audience is as much a part of the show as the celebrities and so each week JLC will ask them to take part in the show, they could be asked to share their claim to fame or take part in show and tell.
Justin Lee Collins said: "The Justin Lee Collins Show is going to be full of good times. I can't wait to meet my exciting guests, have a bit of a sing song, play some games with the audience and meet a mystery guest each week from the 80's or 90's - my favourite decades. The weekend starts here, bring it on."