The Grinning Man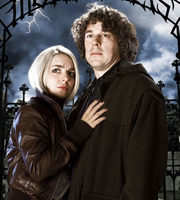 First broadcast: Thursday 1st January 2009
Could a madman who preys upon human flesh really be to blame for 70 years worth of disappearances in an attic called 'The Nightmare Room'? Can Jonathan solve the mystery, or will fearlessly sceptical Joey Ross get there first?
Buy The Grinning Man
Release date: Monday 6th February 2017
Meet the magician with a gift for solving impossible crimes. Working from his home in a converted windmill, Jonathan Creek is the unsung genius who creates baffling tricks for a top illusionist. Gradually he is drawn into a world of macabre murders and miraculous events for which there would appear...