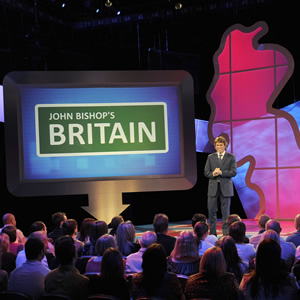 Liverpudlian stand-up star and one-time semi-professional football player John Bishop explains why Saturday-night audiences should get a kick out of his unique, new entertainment show, in which he shares his comedic take on universal themes...
The rising star talks from his Manchester home about the show which mixes stand-up, sketches and real-life stories from members of the British public. The married father of three boys - aged 16, 14 and 12 - has much experience on which to base his comic domestic observations and admits that his children are highly embarrassed by his attempts to be funny...
"The teenage years are an absolute nightmare," laughs Bishop. "We've got three boys and - I can tell you - hang on to your hats. You don't know what's coming 'til it hits you!"
Bishop's show touches on subjects including: parenting; love and marriage; holidays; work; and, of course, sport. The 47-year-old comic, whose unique brand of observational humour has landed him a spot on BBC One, admits that stand-up has not been a life-long passion: "I worked for a pharmaceutical company in sales and marketing. One night, I found myself standing up, on my feet, in a comedy club and it just went from there. That's the good thing about it. I had absolutely no interest in it before. When I go out with my mates, I'm not the loudest by any means."
The one-time Radio City Liverpool DJ is delighted by the opportunity to entertain a prime-time audience on BBC One. "It's a great honour that the BBC has put faith in me for this [series] and it's an opportunity that I am extremely excited about. There is a rumour that having a Scouser on BBC One means they get a grant. But I'm sure that's not the reason they're doing the show... is it?"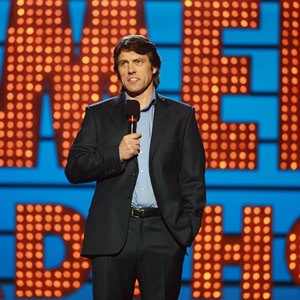 Bishop, who is due to perform at the Edinburgh Fringe Festival at the McEwan Hall in August, has also appeared on BBC One's Have I Got News For You, Friday Night With Jonathan Ross and Michael McIntyre's Comedy Roadshow (pictured).
"Have I Got News For You was brilliant!" says Bishop. "I was on with Ian and Paul and John Prescott. Prescott was great. He took some stick off Ian Hislop! Ian and Paul were very accommodating and friendly. It's a pleasure to be there but you have to remember that it's their show and you can learn from them. Ian talked me through the show and gave me a few pointers, which was dead nice."
Despite being a fan of both BBC One's Outnumbered and Gavin And Stacey, the comic admits to watching little comedy and preferring live interaction with an audience. "I shoot bad hecklers," he laughs. "Actually, hecklers just want to join in. They're not there to ruin the show because they're part of it. You've just got to manage them. Once, I was doing a gig in Leeds and only a few people turned up and I had a heckler and I put him down so much that he got up to go. But I said to him: 'Look, you can't go. There are only 17 people here!'"
Bishop hopes that his new show will keep audiences glued to their seats. "It's aimed at anyone who likes to have a laugh. Hopefully, it's slightly different from stand-up shows that have been on the BBC in the past," says Bishop. "I think people will enjoy watching it. If they don't enjoy watching it then that'll be the end of my career, and I'll have to go and get my job back..."
The long-time Liverpool FC supporter's plans for the future include trying his best to recover from England's early departure from the World Cup by enjoying the airing of his new series to the max. "It doesn't," he says, "get any better than this!"