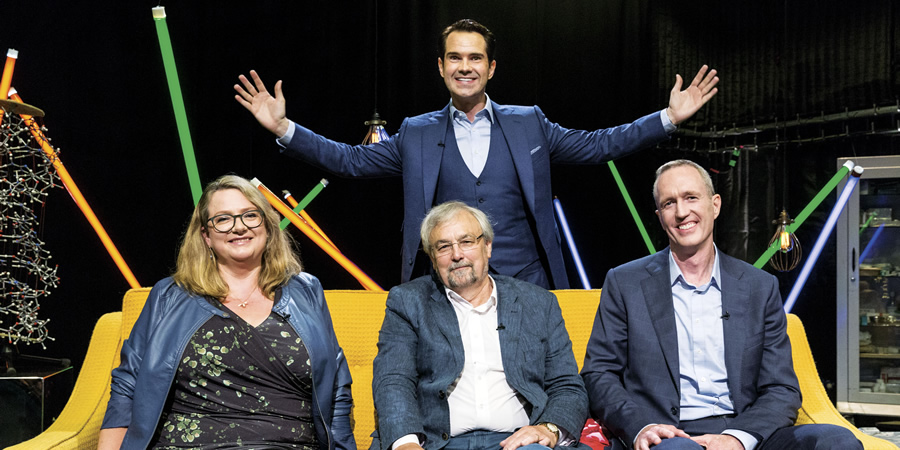 Genre

Documentary

Broadcast

Channel

Episodes

1

Features

Jimmy Carr, Sophie Scott, Robin Dunbar, Peter McGraw, Sara Algoe, Laura Kurtz, Nathan Lund and Jaak Panksepp

Directors

Producers
Jimmy Carr hosts this one-off Horizon special, as part of the BBC's Landmark Sitcom Season, revealing the fascinating science of laughter and comedy. What is laughter, why do we enjoy it so much and what has it got to do with comedy?
Jimmy Carr & The Science Of Laughter: A Horizon Special is an evening of entertaining new science, exciting experiments and a whole new theory of funny. With the help of leading scientists along with Jimmy's own theories and ideas, together they try to find answers to what laughter actually is, why we love doing it so much and why we associate laughter with being amused.
Science contributors in the studio include Professor Sophie Scott from University College London, who is breaking new ground in how the brain processes natural and social laughter; Professor Robin Dunbar from Oxford University, an evolutionary biologist and experimental psychologist who has a theory on why laughter was pivotal in our species development; and Professor Pete McGraw from University of Colorado, a psychologist who claims his controversial theory explains all comedy.
Jimmy Carr says: "Many Worlds Theory states that in an infinite universe there will be one planet on which I'm presenting Horizon. I can't believe your luck - it's this one."
Part of

Production company

Laugh track

Live audience
Broadcast details
First broadcast

Sunday 11th September 2016 on BBC Two at 9pm

Episode length

1 hour

Last repeat

Wednesday 10th February 2021 at 10:30pm on BBC4
Website links