Jeeves
AKA: Reginald 'Reggie' Jeeves. Valet. Played by:
Stephen Fry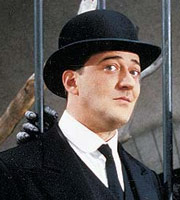 Almost improbably intelligent, Jeeves is Bertie's equally unbelievably patient valet.
Highly perceptive, his unwavering knack for formulating the most brilliant and complex of plans in an instant has got Bertie - not to mention his friends and family - out of close scrapes on uncountable occasions.
Jeeves cooks, cleans, sews, irons and mixes a mean cocktail. He is not merely good at his job, he excels at it, and has an unwavering sense of duty to boot. No matter of outward appearances, Jeeves always has Wooster's back.
In his occasional holidays from Wooster's service, Jeeves enjoys little more than to relax in quiet, peaceful surroundings and fish.
Bertie Wooster
AKA: Bertram Wilberforce Wooster. Played by:
Hugh Laurie
Bertie Wooster is, with the best will in the world, of somewhat limited intellect. He may have had the best education that money could buy, but appears to possess little perceptive skill and even less common sense.
A minor aristocrat, Bertie's lifestyle is maintained by family allowances. He enjoys gambling, is a near undefeated darts champion, accomplished piano player, and has an uneering politeness and chivalric manner that often gets him into trouble.
Wooster also possesses a somewhat questionable taste in headgear and facial hair, much to Jeeves' chagrin. He finds himself regularly prone to the demands of his fierce Aunt Agatha, or dragged into the frequently illegal plots of Aunt Dahlia.