Tamzin Outhwaite plays Connie in the Empty Orchestra episode of Inside No. 9. Let's find out more...
What appealed to you about appearing in the show?
I've always loved Inside No. 9, the concept is amazing. I always remember the silent episode that my friend Denis Lawson was in - there was no dialogue at all, it was absolute genius.
I'm a big fan of Steve and Reece, and when I read the script I thought, this is brilliant - there wasn't any doubt in my mind. And when I found out that Sarah Hadland was in it too, playing my character's love rival, that was brilliant too because she's an old friend of mine. It was the icing on the cake, or the cherry on the top of the icing.
What drew you to this particular role?
Connie is not a particularly nice human being, which I liked. She's flawed and messed up and she treats people like objects; it's all about what she wants - she's a selfish person. She's got some great lines and she turns up in fancy dress as Amy Winehouse, which was another reason! To be able to dress up like that - none of us look like ourselves.
I just love the character because she's one of those people who's popular, who everyone likes, but actually she's got a streak in her that's quite nasty.
How would you describe your character in three words?
Selfish, sad and manipulative.
What was is like working with Reece and Steve?
When you're a massive fan of people you want to ask them questions all the time, so in-between takes we were talking loads. I'd worked with Steve before - we were in an episode of Hotel Babylon together and shared a lot of scenes - so that was lovely.
Because of how Inside No. 9 is set, we were all on set at the same time, all in one room together. It was quite difficult to control the noise with me, Sarah Hadland, Javone Prince, Reece and Steve all talking loudly, it must have been a director's nightmare. It was like we were all really at the party in fancy dress outfits having a chat. So we had to keep reminding ourselves that we were working. I think it's a good sign that we were all quite excitable.
Have you enjoyed working with the rest of the cast?
Everyone was brilliant and it was cast really well. Everybody wants to do an Inside No. 9. It's like one of those boxes that you have to tick. It's an award-winning show that you just think, oh I'd love to be in one of those - because they're so interesting, dark and funny at the same time.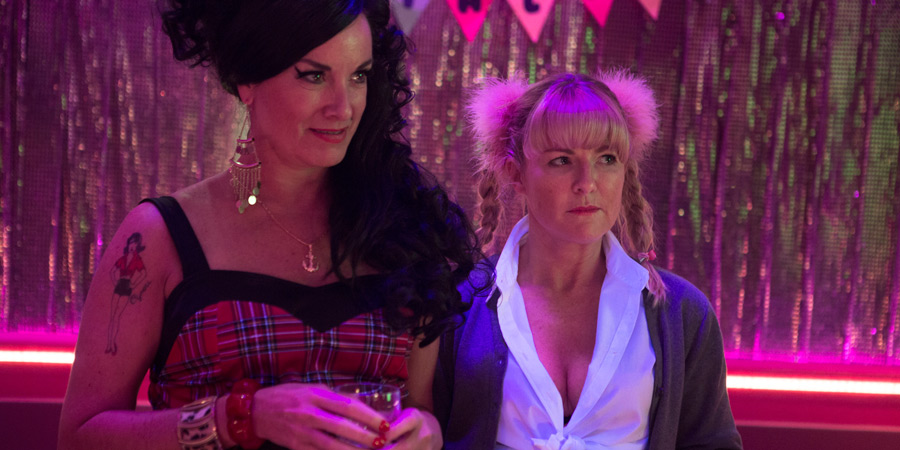 Do you have a favourite scene?
Sarah Hadland and I play love rivals and we end up having to sing, not necessarily well, and that ends in a situation that is quite dark but quite funny. It's very close to the bone and sometimes it's really uncomfortable, and that discomfort makes you want to laugh. So I suppose singing a duet with Sarah - we're not meant to be brilliant, we're meant to be in a karaoke booth!
Are there any anecdotes from filming?
The whole thing in itself is an anecdote - when you see what we're wearing, what Reece is wearing, that in itself is ridiculous. Javone Prince was extremely funny and he comes in as Michael Jackson, he really kept us laughing.