Keeley Hawes plays Louise in the Diddle Diddle Dumpling episode of Inside No. 9. It's an episode in which David and Louise's world is changed forever by a lost shoe.
What appealed to you about Inside No. 9?
I had seen a couple of the episodes previously, and I thought it was absolutely brilliant. It reminds me of Roald Dahl's Tales Of The Unexpected - which I watched religiously growing up and I loved.
When I was asked to do it I was actually filming The Durrells, but it only takes a week to film an episode of Inside No. 9. So I finished The Durrells on the Friday and then started Inside No. 9 on the Monday, which was very odd, going from Louisa to Louise over the weekend, but I loved it.
What drew you to this particular role?
The fact that it was so different from what I had just been doing - I'd just been playing Louisa Durrell and it was pretty far removed from that. I'd also worked with Steve Pemberton before, years ago, and I just think they're so clever and the whole concept is so unusual.
I loved the script, which made me laugh out loud - it's quite a dark episode. There are four of us in it but the majority of the time it was just the three of us, which was quite intense. The whole thing is just a really lovely package and it was a very flattering thing to be asked to do.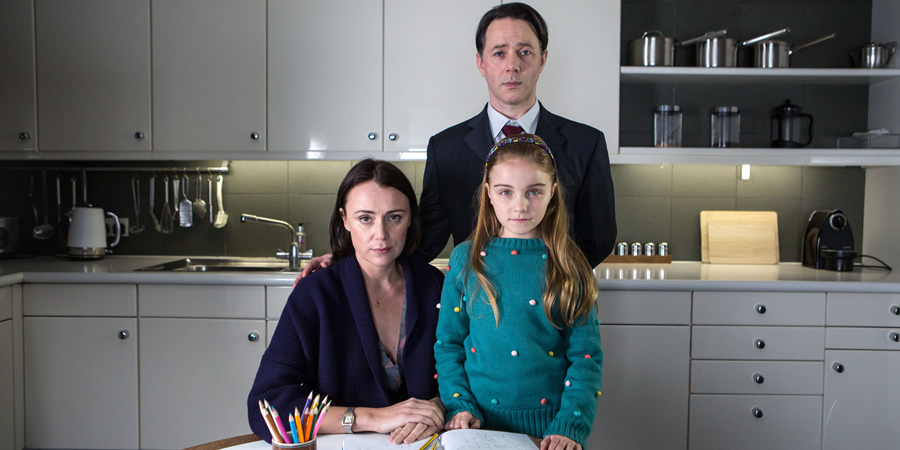 How would you describe your character?
I would describe her as long suffering. When we meet David and Louise we think they are fairly unassuming and normal - which they are, they're getting along with things. Louise's partner is a stay-at-home husband looking after their little girl and she goes out to work, she's a career woman trying to balance everything. So I could relate to that - trying to juggle lots in her life.
What was is like working with Reece and Steve?
I loved working with both of them. It's great because they write them all, you have the writers with you on set and there is no question that they can't answer. It's their baby and they've created this amazing thing, so the atmosphere is great - we laughed a lot.
We have a very long dinner scene with just the three of us - I got the giggles at one point during that because they're both incredibly funny, the writing is so funny - really dark and dry - so it was inevitable really. They obviously take it very seriously and it's brilliant that they are very capable of having a laugh themselves.
Do you have a favourite scene?
I think the dinner table scene was my favourite scene. It's very funny and I enjoyed that.
How would you sum up your time filming Inside No. 9?
It was just a lovely experience - I've seen it and it's really wonderfully shot. Guillem Morales, the director, was brilliant.