Ten years and one day ago, the world was unfortunate enough to not have The Inbetweeners in its life. Luckily for us, a mere 24 hours later the first episode of what has been described as "one of the best comedies of the 21st century" was broadcast.
At first, hardly anyone saw the show when it popped up on E4 with little to no fanfare at 10pm on the 1st May 2008. As The Guardian points out in its tribute, the premiere was met with dismissive reviews and "tiny viewing figures".
However, there was something different about The Inbetweeners; the way it portrayed teenage life so accurately and so funnily. Soon word-of-mouth started to spread. By the time Series 1 was repeated, a large proportion of the nation had grown to love Will, Simon, Neil and Jay and their frivolities.
The programme was actually the first comedy made specifically for E4, and with over 4 million viewers watching the third and final series, it still remains the channel's top rated comedy to this day.
Titled Baggy Trousers during its development phase by creators Damon Beesley and Iain Morris, the show was loosely based on their own experiences growing up. The premise was a breath of fresh air... The drama Skins, with its good looking actors and drug-fuelled parties, portrayed what we all wish our teenage years were like, but The Inbetweeners nailed the reality. It wasn't about the highs of being a cool kid in the education system, it showed the hilarious relatable reality of what it is really like trying grow up as a teenager: failing to get served in pubs, the embarrassment and confusing surrounding trying to lose your virginity, and why you should never lie about what goes on at the Caravan Club holiday park you visit each year with your parents.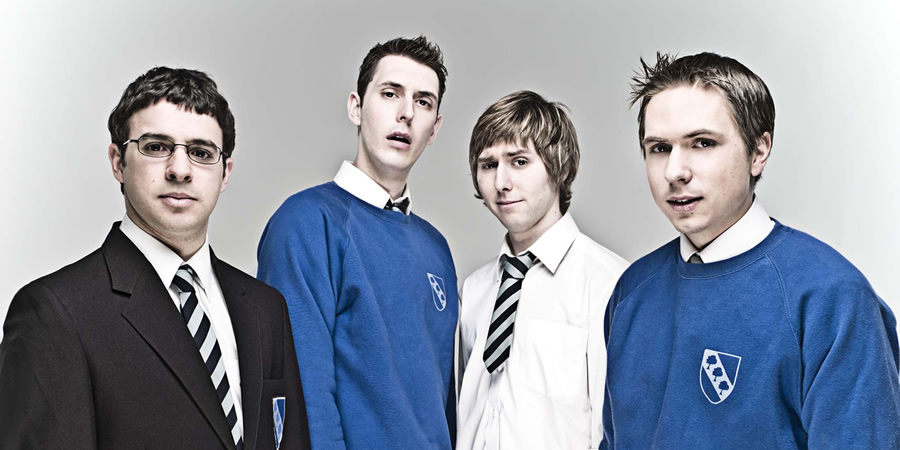 The show was nearly very different, with Dominic Cooper and Matt Smith amongst those who also auditioned for the main roles, but in the end it was Simon Bird, Joe Thomas, James Buckley and Blake Harrison who became Will, Simon, Jay and Neil. The actors inhabited their characters so well that few viewers even noticed that it was people in their mid-twenties who were playing the teenage roles.
The supporting cast was a masterstroke too. Having Greg Davies as the constantly bitter and uninterested Mr Gilbert was fantastic casting, and the two Emilys (Head and Atack) as the contrasting but equally funny Carli and Charlotte help to drive the episodes. The series also featured an impressive array of guest stars, including Holby City's Chizzy Akudolu, and Charlie Wernham from Bad Education.
Despite the show ending in 2010, fans are still able to watch all the classic moments and episodes on DVD and on demand. The on-going success of The Inbetweeners really shouldn't be under-estimated. Channel 4 revealed today that the British public has clocked up a staggering 86 million hours (or, rather aptly 10 thousand years!) of viewing the series on catch-up platform All 4. Put another way, that's the same amount of time it would take to complete sixth form 4885 times over!
The coming of age sitcom is a hit with new students (and teachers) today still, and is apparently particularly popular at times when perhaps they should be otherwise studying... viewing went up by almost a quarter (+22%) during May 2017's A-Level exam period. Meanwhile The Inbetweeners was All 4's most viewed box set during February's 'Beast from the East' snowstorms that caused school closures.
Clips from the sitcom continue to prove popular too. Mr Gilbert having a go at the lads has been viewed over 8 million times on Facebook now:
So, a whole decade later, and we are still laughing at the four playing truant and spending the day at the house of Neil's rather odd dad; and that episode in which Will and Simon babysit for Carly's brother only to dig themselves in a big hole when they ask her to "pleasure herself". But it's not just whole episodes that are stand out - some of the lines in the series have gained a life of their own too. Who hasn't thought - if not shouted - "bus wankers" when passing a bus stop?
After three successful years of the television series, Beesley and Morris made the decision to take the four rather hopeless teenagers to the big screen in 2011. The Inbetweeners Movie followed the classic sitcom-to-film staple of taking the characters abroad, however, unlike most previous TV spin-off films, it managed to remain funny. It promptly broke the record for the biggest opening weekend for a comedy film in the UK, taking over £13 million. The sequel, in 2014, which saw the four loveable losers heading to Australia, was a commercial hit too - making millions, and becoming the highest-grossing British film in the domestic market in 2014 in the process.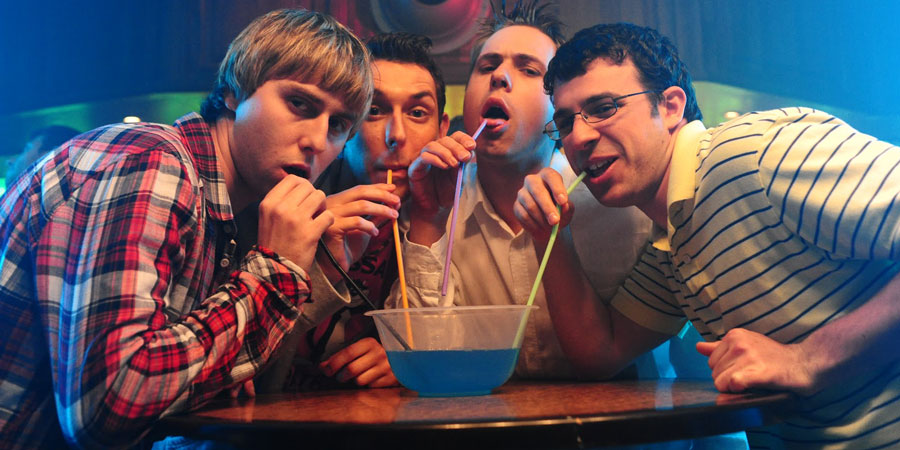 Whilst the cast and writers have now called time on their characters, the talented bunch all continue to work in comedy. Simon Bird has gone on to become the wonderfully funny Adam over seven years of Friday Night Dinner, with the new series starting this Friday; James Buckley brought life to a young Del Boy in Rock & Chips and is now starring in Zapped (Series 3 coming later this year). 2016 we saw a revival of Dad's Army in film form, with Blake Harrison as Pike; whilst Joe Thomas went on to become Kingsley in Fresh Meat. Greg Davies, meanwhile, went on play another teacher: Dan, in his own hit sitcom Man Down; and he can now be seen judging other comedians in Taskmaster too.
Morris and Beesley continue work together, now at the new production company they founded, Fudge Park. They recently worked with Thomas and Buckley again to make double-glazing sitcom White Gold, and have various other projects in development, including a film written by Thomas called The Festival, which is due out later this year.
Luckily playing losers hasn't rubbed off on the actors. Hannah Tointon, who played Simon's girlfriend briefly in Series 3, is now engaged to Joe Thomas in real life.
So, there we have ten years of The Inbetweeners! Maybe we'll have seen more of the quadruple by their 20th anniversary, but in the meantime all series and films are available to enjoy this May on All 4
Top 10 Inbetweeners Episodes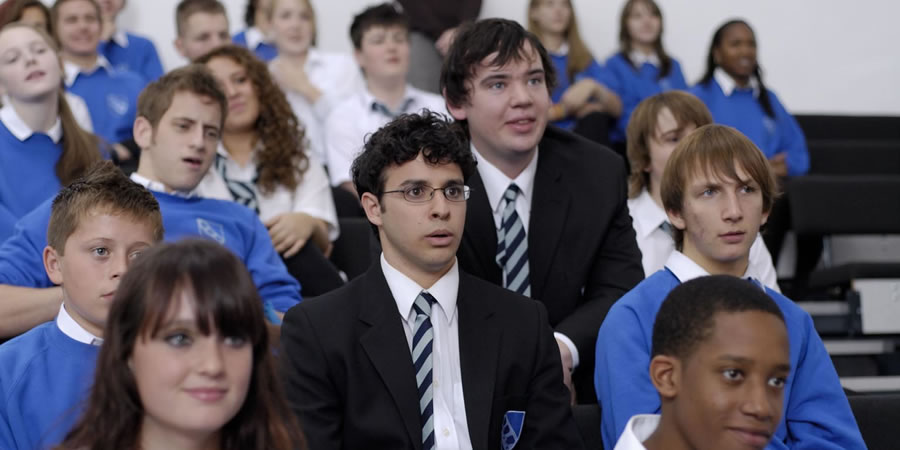 Here are the top 10 episodes, based on catch-up viewing figures...
1. First Day (Episode 1.1)
2. Field Trip (Episode 2.1)
3. Home Alone (Episode 3.5)
4. Bunk Off (Episode 1.2)
5. Thorpe Park (Episode 1.3)
6. Caravan Club (Episode 1.5)
7. Will Gets a Girlfriend (Episode 1.4)
8. The Gig and the Girlfriend (Episode 3.2)
9. The Camping Trip (Episode 3.6)
10. Will's Birthday (Episode 2.3)
Published: Tuesday 1st May 2018