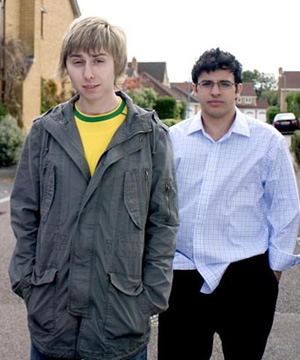 Here is an exclusive interview with two of the stars of The Inbetweeners, James Buckley (Jay, picture left) and Simon Bird (Will, picture right). During the first series they talked to British Comedy Guide about the show...
Hi Simon and James. Thanks very much for talking to us... We don't think it an exaggeration to call The Inbetweeners a bit of a runaway success, what with the series having picked up pretty much universal good reviews. Even our message board members have said nice things about it, and they hate pretty much everything!...
Simon Bird (Will): Yeah, it's been great. As it happens we checked out your forums the other day, it's great everyone is being really nice about it.
When you were working on the show did you get an inkling it was going to be a success or was it a bit of a surprise?
James Buckley (Jay): I just remember thinking it being really funny, even when I got the script at the audition, which was a few years ago now, it made me laugh. That's literally the most important thing about it - that it is funny, and it is a comedy.
Well said. If only all comedies could remember to include jokes! A lot of people have said Skins is the show people wish their teenage years were like, but The Inbetweeners is what most people's teenage years are actually like. Would you agree with that?
Simon: Yeah, I think there's a lot to that. I think the characters in The Inbetweeners are exactly like that - they wish they could be like the kids in Skins. There's been a lot of stuff about people linking it to Skins, but The Inbetweeners started being written and made before Skins even came out.
James: I think the only similarities The Inbetweeners has with Skins is that the cast is young and it's on E4. Other than that, I don't think there's any similarities. I'm proud of the fact that, I think, The Inbetweeners is a lot more realistic and more people can relate to it.
Is there anything your characters Will or Jay have done in the series which mimics anything you've done in real life?
Simon: Um... well...
Ha ha. You're not going to tell are you?
Simon: Ha ha. Well, there's nothing exactly. I think a lot of the stories in the show are based on the writers' real lives, so a lot of the stuff that happens in the series I think actually happened to the guys who write the show. So, the bit where Will gets very angry at the kids who are at the front of the rollercoaster, who are disabled, actually happened to one of them. Any of the stuff that Jay does, happen to you James?
James: Well, nothing really. Again, I think it was all the writers. I think the characters get away with it because of the naivety of their age, you know, you can sort of sympathise with them... where as the writers were actually in their late-twenties when many of these things were happening to them. That's a lot more tragic! Ha ha.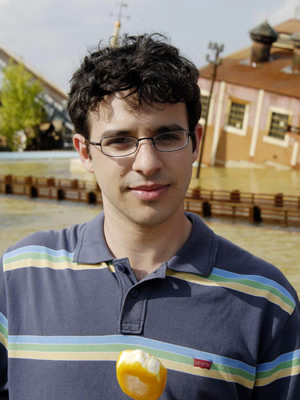 So how close to your characters would you say you are in real life?
Simon: I'm pretty geeky I think. I don't really have to act that much! Hopefully I'm not quite as officious as Will, but yeah I've definitely got some geeky tendencies. I think James probably isn't the same as Jay, I mean he is vulgar and gross but perhaps not quite such an extreme.
James: No, I was going to say that I'm not as vulgar as... hang on, actually, I'm not vulgar or gross at all! Ha ha. I'd like not to be confused with Jay as much as possible please.
Are we right in saying you're slightly older than the characters you play in The Inbetweeners?
Simon: Er... yeah, you're right. Ha ha.
Was it odd putting school uniform back on and having to act a younger age?
James: Your school uniform still fit, didn't it Simon?
Simon: I'm tiny so it didn't bother me. It was fun actually going back to school like that. My school days I really enjoyed so it was nice to pretend to be there again.
Did you find anything you had to do in the show embarrassing? We're thinking of one particular scene...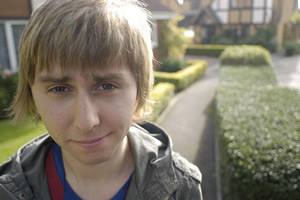 Simon: Well, it could have been, but the girl that I 'did it with', so to speak, was really great about it and the crew were all really good so it wasn't really that embarrassing. To be honest it was quite fun! I was bit scared and terrified when I read that I had to do it, but no I didn't find it that difficult at all.
James: I think it was all fun to do. I think I was quite lucky I didn't have to get naked or wear Speedos - most of the things happened to Neil [Blake Harrison].
Ah, the changing room scene. That must have been, um, 'interesting' to film!
Simon: May I just say Blake has got a fantastic penis. Ha ha. Actually, now I think about it my worst scene was the rollercoaster one. I really hate rollercoasters - I get really bad motion-sickness - and we had to just go in it over and over again. By the end I felt very, very ill - they had to call a nurse up for me.
If The Inbetweeners gets a second series, and lets face it Channel 4 would have to be mad not to re-commission it, we take it you'd both be interested in doing more?
Simon: Yeah, definitely, it was such good fun doing it and people seem to have really enjoyed it, which is great, so yeah why not. Let's do it again!
James: Yeah I'd love to!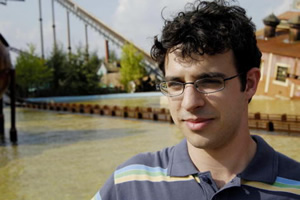 Do you think The Inbetweeners could run for a number of years, or will the characters reaching 18 and heading off to university change things too much?
James: I'm not sure if half the cast could get into university!
Simon: I think university, certainly for me, is not that different from school. It's still the same people - in a way, it's more fruitful for comedy because people start thinking they're older and wiser and above their station, when actually it's exactly the same. There's much more room for embarrassment too, because you have all this free time to get into scrapes.
Well, we'll keep our fingers crossed for a second series. In the meantime have you got any other projects in the pipeline?
Simon: Joe [Joe Thomas - who plays Simon] and I are taking a show up to the Edinburgh Fringe which we're writing at the moment, and I'm doing some stand-up. James is doing some TV stuff I think...
James: Mine's not that secret, but there's just nothing definite to say yet! We'll be going to Edinburgh to watch Simon.
We know you've got the Chortle awards coming up soon Simon... congratulations on making it into the final.
Simon: I'd forgotten about that actually! I'm really looking forward to it, I don't find it that daunting now as I've done that competition a few times now - it's not that big a deal, it's just good fun, and its nice to do stand-up every once in a while.
Are you looking to head down the stand-up route or is it just a sideline?
Simon: Well, personally I think it's a bit of a sideline for me. It's not my main thing. The way I got into The Inbetweeners was through live sketch comedy - that's what I find really fun.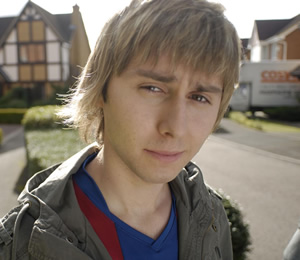 James, you've been in loads of TV shows we've seen - The Bill, Skins, Teachers, 'Orrible to name but a few... what's been your favourite role?
James: Well, Teachers was quite fun. I played a homosexual student that dressed up as Freddie Mercury.
Simon: You found that quite a release did you?
James: It wasn't challenging. Ha ha!
It was a very fine performance if we may say so - in that yellow jacket you managed to steal all the scenes you were in. It was a very funny character.
James: Cheers.
So, our final question - which we spring on everyone we interview - what are your favourite comedies?
James: The Office, Peep Show...
Simon: Yeah, I love The Office too. The Thick of It, Look Around You, Brass Eye...
James: Yeah, and I'm a big Mighty Boosh fan. Alan Partridge too. Steve Coogan is a real hero of mine.
Cheers. Great lists guys. Thanks for talking to us, best of luck with your other projects and hope to see you on TV soon with more episodes of The Inbetweeners.