Series 3, Episode 5 - Will Is Home Alone
Will's mum is away for a weekend with old schoolfriend Fergus. Will is left home alone and the other boys take full advantage of the situation.
Broadcast details
Date

Monday 11th October 2010

Time

10pm

Channel

E4

Length

30 minutes

Ratings

2.43 million viewers (11.70% audience share)
Full synopsis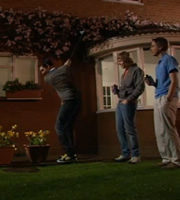 They hammer the Ocado account, empty the fridge and rifle through Polly's knicker drawer among other things, but despite this there's a chance even Will might have a good time. That is of course until morning...
Repeats
Thursday 14th October 2010 at 22.35
Friday 15th October 2010 at 22.55 on C4
Wednesday 29th December 2010 at 00.25
Thursday 19th May 2011 at 22.00
Thursday 21st July 2011 at 22.00
Friday 22nd July 2011 at 02.25
Saturday 20th August 2011 at 01.30 on C4
Thursday 13th October 2011 at 22.00
Saturday 24th December 2011 at 02.15 on C4
Thursday 19th January 2012 at 22.00
Friday 20th January 2012 at 01.25
Monday 23rd July 2012 at 01.00
Monday 23rd July 2012 at 22.00
Sunday 7th October 2012 at 00.15
Sunday 7th October 2012 at 22.30
Tuesday 25th December 2012 at 01.15 on C4
Wednesday 26th December 2012 at 03.05 on 4seven
Saturday 29th December 2012 at 01.05 on 4seven
Sunday 30th December 2012 at 00.15
Sunday 30th December 2012 at 23.30
Monday 31st December 2012 at 04.00 on 4seven
Monday 6th May 2013 at 23.05
Tuesday 7th May 2013 at 22.30
Saturday 27th July 2013 at 23.55
Sunday 28th July 2013 at 22.15
Saturday 21st December 2013 at 23.25 on 4seven
Sunday 22nd December 2013 at 22.00
Saturday 4th January 2014 at 22.50
Sunday 5th January 2014 at 22.20
Thursday 20th February 2014 at 00.40
Thursday 20th February 2014 at 21.30
Thursday 3rd April 2014 at 00.40
Thursday 3rd April 2014 at 21.30
Sunday 18th May 2014 at 00.15
Sunday 18th May 2014 at 22.05
Friday 11th July 2014 at 23.10 on C4
Saturday 12th July 2014 at 02.05 on 4seven
Sunday 13th July 2014 at 03.00 on 4seven
Wednesday 8th October 2014 at 24.00
Thursday 9th October 2014 at 22.30
Saturday 11th October 2014 at 23.30
Sunday 12th October 2014 at 22.30
Saturday 13th December 2014 at 23.55
Sunday 14th December 2014 at 22.00
Thursday 25th December 2014 at 22.00
Thursday 22nd January 2015 at 00.40
Thursday 22nd January 2015 at 22.30
Sunday 1st March 2015 at 00.30
Sunday 1st March 2015 at 22.00
Thursday 23rd April 2015 at 22.00
Friday 24th April 2015 at 01.15
Sunday 24th May 2015 at 01.30
Sunday 24th May 2015 at 23.35
Sunday 15th November 2015 at 02.15
Sunday 15th November 2015 at 22.00
Sunday 27th December 2015 at 01.30
Friday 1st January 2016 at 01.10
Sunday 7th February 2016 at 02.20
Monday 8th February 2016 at 00.05
Wednesday 20th April 2016 at 24.00
Thursday 21st April 2016 at 22.00
Sunday 3rd July 2016 at 01.50
Monday 4th July 2016 at 00.15
Cast & crew