Series 3, Episode 3 - Will's Dilemma
Simon and his new girlfriend Tara go on a double date with Will and her friend Kerry.
Broadcast details
Date

Monday 27th September 2010

Time

10pm

Channel

E4

Length

30 minutes

Ratings

2.28 million viewers (11.50% audience share)
Full synopsis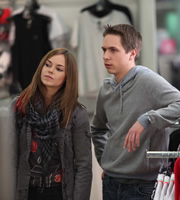 Simon's principles are tested when he has to weigh up snogging the face off his new girlfriend Tara, but only if he lets her redesign his wardrobe. Meanwhile, Will balances up spending time with an embarrassing and rather boring girl for the prospect of some action.
Repeats
Thursday 30th September 2010 at 22.30
Friday 1st October 2010 at 22.50 on C4
Tuesday 28th December 2010 at 23.15
Thursday 12th May 2011 at 22.00
Friday 13th May 2011 at 01.05
Thursday 14th July 2011 at 22.00 on ITV3
Friday 15th July 2011 at 01.10 on ITV3
Saturday 20th August 2011 at 00.35 on C4
Thursday 29th September 2011 at 22.00
Saturday 24th December 2011 at 01.20 on C4
Thursday 12th January 2012 at 22.00
Friday 13th January 2012 at 01.20
Monday 16th July 2012 at 00.35
Monday 16th July 2012 at 22.00
Sunday 9th September 2012 at 23.05 on C4
Saturday 29th September 2012 at 23.10
Sunday 30th September 2012 at 22.00
Sunday 23rd December 2012 at 02.15
Monday 24th December 2012 at 00.55
Tuesday 25th December 2012 at 00.15 on C4
Wednesday 26th December 2012 at 02.05 on 4seven
Saturday 29th December 2012 at 00.05 on 4seven
Monday 31st December 2012 at 03.05 on 4seven
Monday 22nd April 2013 at 23.00
Tuesday 23rd April 2013 at 22.30
Saturday 20th July 2013 at 22.40
Sunday 21st July 2013 at 22.10
Saturday 14th December 2013 at 23.40
Sunday 15th December 2013 at 22.00
Thursday 6th February 2014 at 00.15
Thursday 6th February 2014 at 21.30
Thursday 20th March 2014 at 00.35
Thursday 20th March 2014 at 21.30
Sunday 11th May 2014 at 00.15
Sunday 11th May 2014 at 22.15
Friday 4th July 2014 at 23.40 on C4
Sunday 6th July 2014 at 01.30 on 4seven
Friday 11th July 2014 at 02.10 on 4seven
Thursday 25th September 2014 at 00.55
Thursday 25th September 2014 at 22.00
Sunday 5th October 2014 at 01.10
Sunday 5th October 2014 at 23.40
Saturday 6th December 2014 at 23.55
Sunday 7th December 2014 at 22.00
Sunday 21st December 2014 at 01.25
Sunday 21st December 2014 at 23.05
Thursday 15th January 2015 at 00.50
Thursday 15th January 2015 at 22.00
Sunday 1st February 2015 at 22.35
Saturday 21st February 2015 at 23.00
Sunday 22nd February 2015 at 22.00
Thursday 16th April 2015 at 22.00
Friday 17th April 2015 at 02.10
Sunday 17th May 2015 at 00.35
Sunday 17th May 2015 at 23.35
Thursday 4th June 2015 at 21.30
Friday 5th June 2015 at 01.00
Sunday 8th November 2015 at 00.35
Sunday 8th November 2015 at 22.05
Monday 21st December 2015 at 01.15
Friday 1st January 2016 at 00.05
Sunday 31st January 2016 at 02.15
Monday 1st February 2016 at 00.05
Thursday 14th April 2016 at 22.00
Friday 15th April 2016 at 01.10
Sunday 26th June 2016 at 02.20
Monday 27th June 2016 at 00.25
Cast & crew