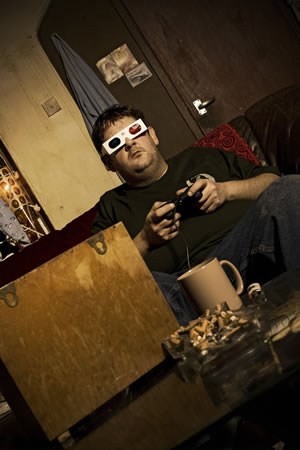 Ideal is a BBC Three sitcom written by Graham Duff. The comedy centres around Moz, a small-time drug dealer, and his varied regular 'clients'. Moz (played by Johnny Vegas) has no ambitions beyond spending a quiet life dealing cannabis to a small group of friends and acquaintances. All the scenes take place in his flat (number 20), and occasionally the other flats on that floor.
The first series of Ideal concerned itself with introducing viewers to the world of Moz and his oddball clients. It was the second series where the sitcom started to get going properly, and were there some pressing issues to be resolved. Moz's long term girlfriend, Nicki, was about to give birth, but there was a question mark over the father - it could have been any one of three men! Meanwhile Moz's days as a dealer were under threat as PC, the local copper and Moz's best mate, was in line for a promotion - if he got the new job it'd mean Moz's supply would dry up (as Moz's 'merchandise' comes via PC's police raids!).
To make matters worse regular client Psycho Paul (the name says it all) was keen to involve Moz in a get-rich-quick kidnapping scheme - and wouldn't take no for an answer! Events then took a sinister turn when the body of Craig, murdered by masked hitman Cartoon Head, turned up in the local chippy's deep fat fryer. The second season also saw the introduction of a new character called Judith - a timid neighbour with a very dark secret!
Series Three, which was first shown in spring 2007, started with Moz stuck in a plaster cast (having fallen from his rooftop). His long-suffering girlfriend Nicki had moved back in too - bringing baby Sanjeev with her - determined to give their relationship one last shot.
During Series Three Nicki was suffering from sleep deprivation due to the baby; so at times had hallucinations... for example Moz in the baby bouncer, and once Moz with a perfect Chippendale body. Meanwhile, Moz had to start juggling his dealing 'career' with the challenge of being a new dad, and his natural inclination to do as little as possible.
To Moz's initial delight and Nicki's complete dismay, the baby's health visitor turned out to be Moz's fun and flirty ex-girlfriend, Tania. She shares his predilection for petty theft and so started stealing stuff from the flat to sell on eBay. On top of this, Moz's mum Sheila joined a pyramid scheme, selling slimming drinks and she was determined to flog them to all Moz's customers. And to add to Moz's worries, his ex-necrophiliac neighbour Judith was back working at a funeral parlour and there were clues she may be bringing her work home with her...!
But Moz's problems really jumped up a notch when his landlord arranges for builders to redecorate the flat. The foreman is Alan, a permanently cheerful yet very hard line born again Christian. The big question was whether Moz could keep up the pretence of being a devout Christian and stop Alan from finding out what he does for a living... it turns out he couldn't and thus series three ended in a very messy way indeed!
With their relationship deteriorating fast, both Moz and Nicki began embarking on clandestine affairs at the start of series four. Nicki hooked up with Salford's dopiest Police Constable and Moz discovered love in the arms of a rather surprising companion - Jenny.
Moz's life was soon further complicated by his long lost dad Keith. Absent for 12 years, Keith jumped right back into Moz's life, hoping to offload some dodgy wide screen TV's.
Meanwhile, in the world of disorganised crime, former best mates Cartoon Head and Psycho Paul were going head-to-head in a gangland war involving the notorious Low Triad. Moz tried to avoid getting dragged into this potentially fatal gang war, but he soon found himself in the thick-of-it.
Series Four also saw the introduction of a new neighbour - a mysterious and frightening man known only as 'Fist'.
Series Five was all about fresh beginnings and Moz. He was facing the biggest change of his life: attempting to give up dealing weed, and fulfilling his promise new girlfriend Jenny that he will make the ultimate sacrifice and get a proper job. However, he soon finds himself once again dragged into the criminal underworld of shootings and human trafficking. The big question was: as the consequences of his lifestyle come back to haunt him, will Moz spend 15 years in jail or go on the run? He opted to flee the UK and (un-seen by viewers) he and Jenny travelled to several different countries.
When they turned up on the doorstep at the start of Series 6, it wasn't quite the homecoming they'd hoped for. For a start, PC, the police constable has taken up residence in Moz's old flat, with his ex-girlfriend Nicki. Not only that, but with PC bringing home all the weed he's confiscated, Nicki is now dealing to Moz's original circle of clients and has seriously boosted profits. This series also welcomed a new tenant to the block. Tilly (Janeane Garofalo) is a beautiful, witty, artistic American girl, who runs her own small designer clothes shop: Trash Wednesday.
The latest series sees Moz's finances hit rock bottom, forcing him to return to his first career; hash dealing. Unfortunately, ex-girlfriend Nicki is running her own dealing business from the flat next door. So it isn't long before a price war kicks off, with each desperately trying to undercut the other.
Meanwhile a new gang has hit the streets of Salford which not only threatens Moz and Nicki's dealing businesses, but also their very lives! This deadly gang of killer gingers are known as the Red Mist and are led by the Red King. Writer Graham Duff says "Ideal has had some great villains over the years: David Bradley as Stemroach, not to mention Mark E. Smith as a vengeful Jesus! But Rula Lenska is perfect as the evil Red King - courteous yet unhinged."
Ideal is written by Graham Duff (who also plays camp Brian). Fans of Duff should check out his other series - he has written and starred in three series of Radio 4's hit sci-fi sitcom Nebulous.
In the early series, additional material was provided by Mancunian stand-up Tony Burgess. He can be seen in some episode of Ideal as paranoid 'old skool' raver Troy - aka Moz's brother.